Celebrating its 30th anniversary this year, the annual ICFF NYC is where residential construction pros go to see global and domestic modern products including lighting, door hardware, bath products, and much more.
Formerly the International Contemporary Furniture Fair, the show was renamed to better reflect its growing influence among building products manufactuers in a variety of categories.
This year's show—being held May 20 to 23 at New York City's Jacob K. Javits Convention Center—is expected to draw more than 36,000 interior designers, architects, retailers, representatives, distributors, facility managers, developers, manufacturers, store designers, and visual merchandisers. The last day of the show is open to the general public.
"ICFF annually lures those in determined pursuit of design's timely truths and latest trends to an encyclopedic exhibition of up-to-the-moment offerings, as well as a series of fascinating, fun, edifying programs and a packed schedule of exhibits and features," show organizers say.
The programs matter, but everyone heads to New York City to see the cool new products. We've done some research and we found some that you should see at this year's show.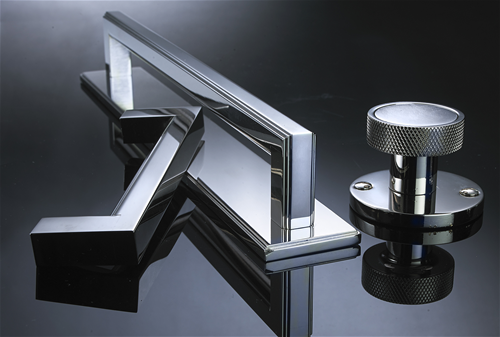 The 745 cabinet handle (left) was the inspiration for the new 945 "stepped" cabinet handle (middle), which maintains the sleek rectangular profile and rounded back of the 745 handle. A variety of finishes are available.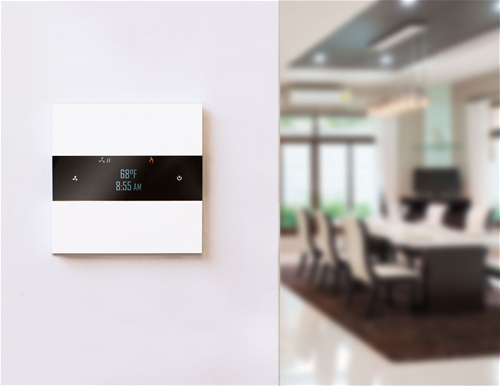 Deseo uses an OLED user interface to control the HVAC system and lights in a house and integrates with Crestron, Lutron, and KNX smart home systems. The touch-sensitive surfaces are used to conveniently manage set point, fan speed, and temperature modes. It measures 3.15 inches by 3.15 inches.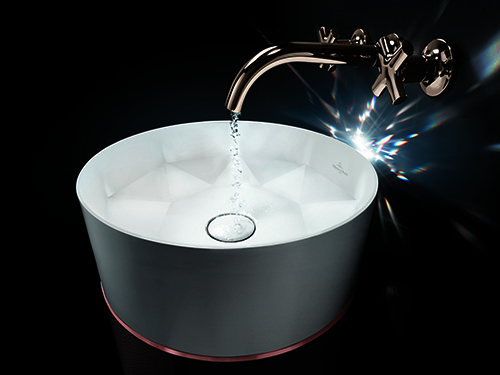 TitanCeram is the manufacturer's ceramic material that permits very precise, delicate designs, the company says. It includes natural raw materials such as feldspar, quartz, clay, and titanium dioxide to create an innovative material that combines the properties of high-quality ceramics with exceptional strength. Various washbasins use the material.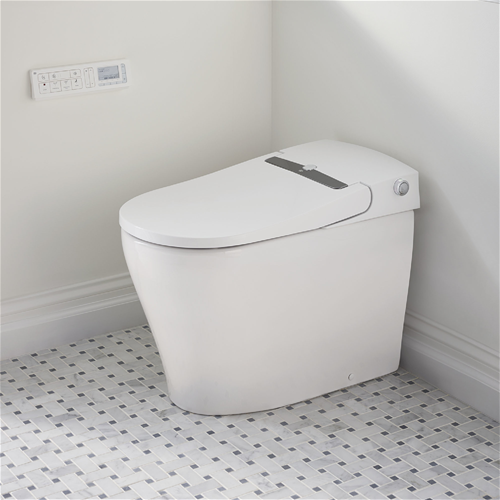 The AT200 LS SpaLet bidet toilet provides a variety of automated, adjustable functions. Using technology, it keeps bathrooms smelling fresh with air sterilization, room refresh deodorizer, and an air shield deodorizer. The seat includes an aerated feminine wash and aerated posterior wash with dual adjustable self-cleaning nozzles, and a heated toilet seat with adjustable temperature settings.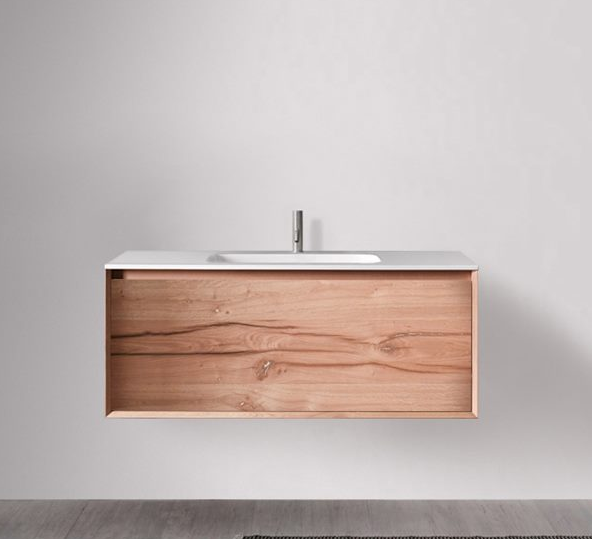 Part of the 45° series, the 1200 wall-mount vanity measures 47¼ inches wide and features a 45-degree join on the two lower angles. It has a slim inner drawer and larger bottom drawer that provides ample storage. The frame is available in natural oak or white matte lacquer finish.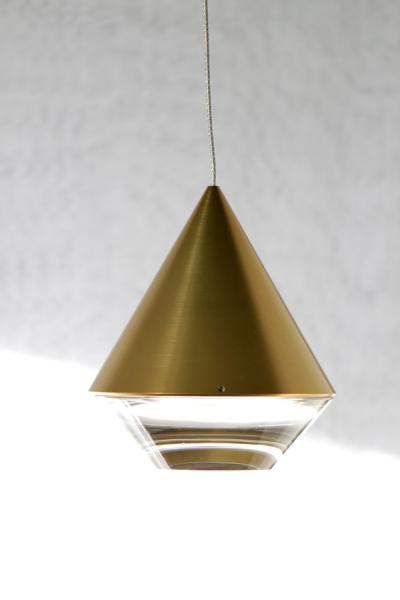 One of three new luminaire systems being introduced at the show, Alto has a strong upper conical shape and finishes with a jewel-like transparent element reminiscent of a cut diamond. The LED product transitions form a color temperature of 3000 degrees Kelvin at full brightness to a warm color temperature of 1800 degrees Kelvin when dimmed.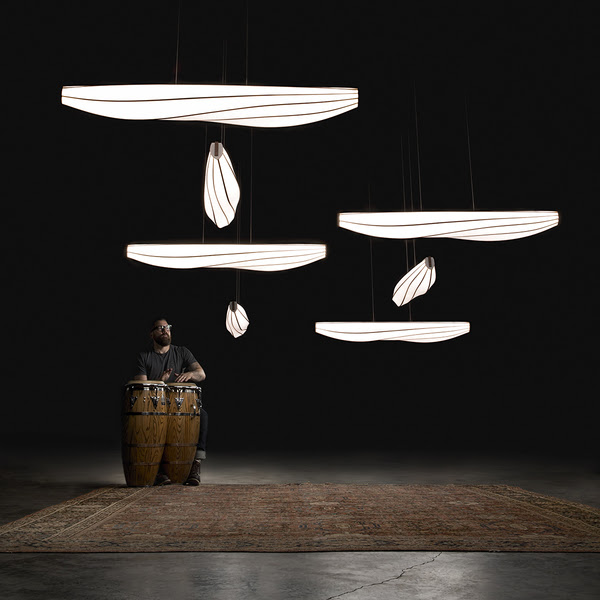 Inspired by the company's Laguna Beach roots and sailing, the new linear luminaire, Lenis, represents an aesthetic deviation for the brand: It features softer lines with more pronounced curves. The founders' love for surfing, sailing, and spending time at the beach inspired the bent elements wrapped in form-fitting fabric.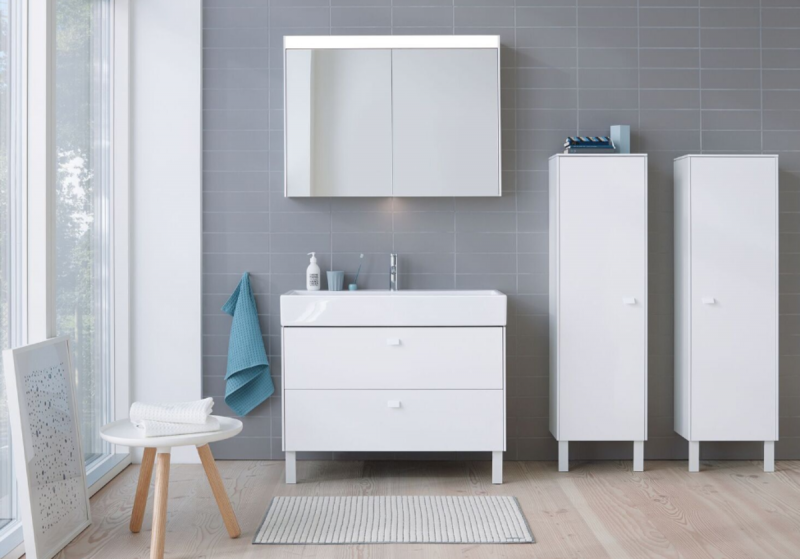 Updating classic look cabinets with a modern spin, the Brioso Collection, named for the word "lively" in Italian, takes a playful yet simple approach to design that perfectly encapsulates the term, the company says. It features delicate, slender legs and subtle and geometric handles. The product's handles and legs can be finished in the same vanity or cabinet color when requested. All of the furniture in the Brioso line is available with one or two drawers for additional storage.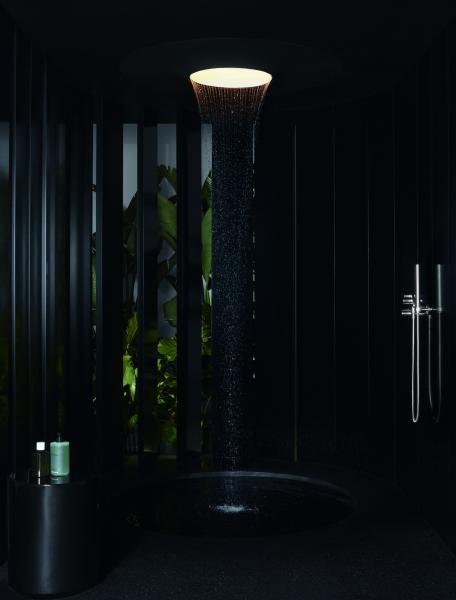 Rainmoon is a new shower concept and multi-sensory bath experience that reimagines the shower as a circular, ceiling-integrated moon enhanced with mood lighting. It envelopes bathers with soft, weightless raindrops or a powerful cascade of water, the company says.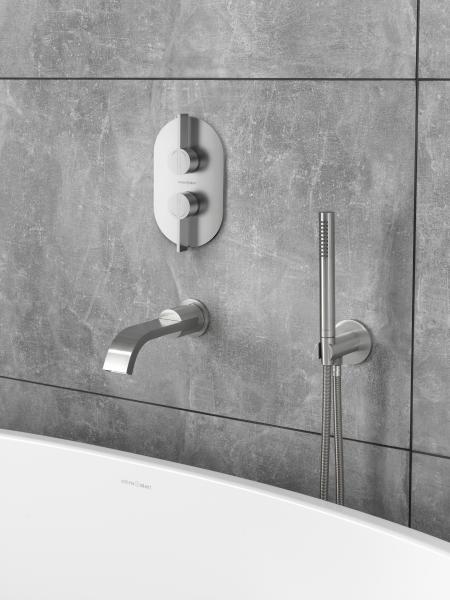 The brand's new line of faucets, Soriano, is a contemporary collection of stainless steel Italian-made fixtures. A collaboration with Meneghello Paolelli Associati, the line is simple, with a spout, lever, and base defined by one shape. Made from stainless steel throughout, pieces are finished in brushed stainless steel.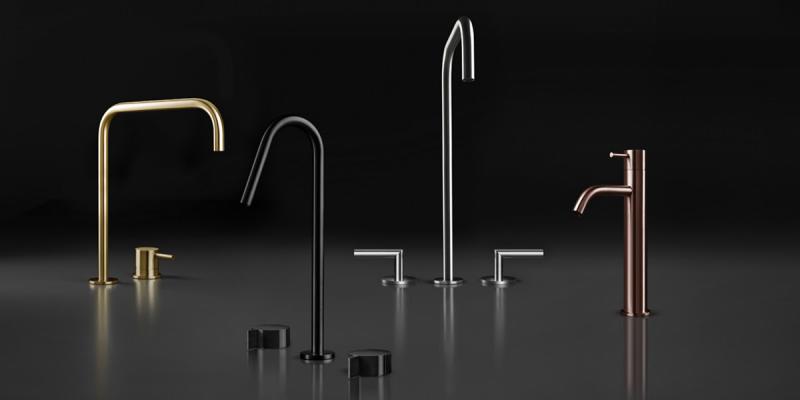 The company also is introducing the new Italian-made INOX stainless steel series of faucets and shower systems. It allows designers and clients to choose from a modular collection of basin and bathtub faucets with wall-mount, deck-mount, and floor-mount models. Handshowers, shower mixers, and shower heads are available.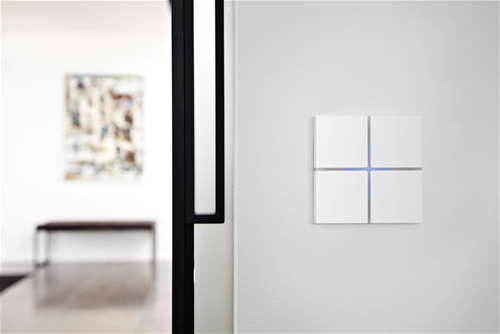 The Sentido is a touch-sensitive switch that control lights, scenes, shades, climate, and music. It's available in luxury finishes such as bronze, aluminum, or brass and is designed for Crestron, Lutron, and KNX home automation systems.