It's common knowledge that a cool kitchen and a well-appointed master bath are the two most important rooms in a house. They help spur new-home sales, move existing inventory, and increase a home's value. But to achieve "cool" and "well-appointed" spaces, it helps to know what buyers and consumers really want.
Every time period has its prevailing architectural flavor, product preferences, and material favorites. There's a reason formal dining rooms seem antiquated (homeowners rarely use them) and a reason most houses feature open, light-filled floor plans (buyers love them).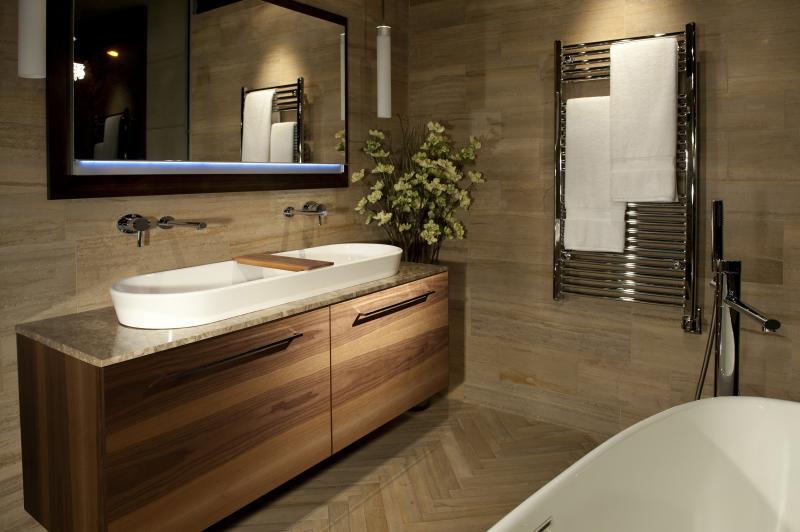 Part of the Nuvo Collection, the Verso Tall 470 vanity is a wall-mounted unit that is made from solid walnut and can be confi gured with LED lighting, interior outlets, and hair dryer storage. It comes in six lengths ranging from 24 inches to 96 inches. 
So, what do people want in their kitchens and baths now? In its annual Design Trends member survey, the Hackettstown, N.J.-based National Kitchen and Bath Association found that consumers crave transitional design in both spaces.
In the kitchen, gray, white, and off-white cabinets are pretty hot, wood flooring is a perennial favorite, quartz and granite countertops hold sway, and docking and charging stations are huge. For the bathroom, wall-hung vanities and freestanding tubs are popular, while radiant-heat floors and humidity-sensing fans are also trending, the survey concludes.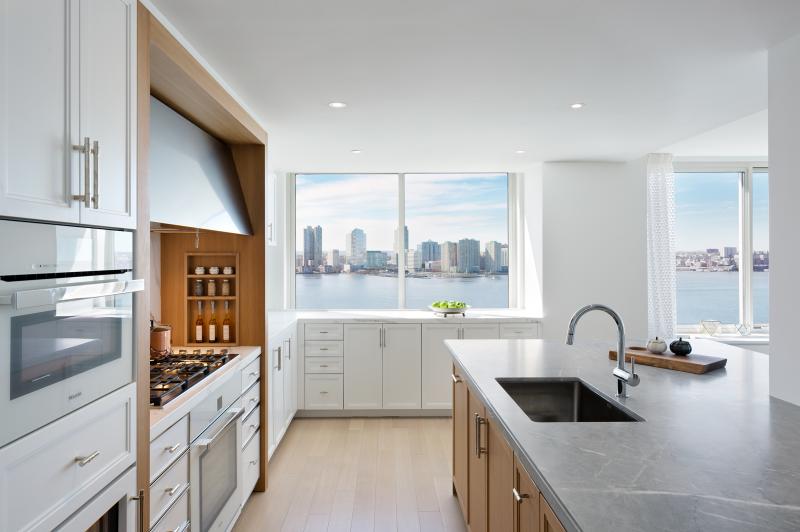 Designed by noted New York architecture firm CetraRuddy for IRP, Inspira elevates the kitchen into a central living space. Made in Italy, the product features full overlay doors, hidden hardware, and a mix of materials, such as metal, wood, and glass. 
The trick to specifying these products and materials for the kitchen and bath is restraint. Think about the neighborhood and, more importantly, the target buyer.
"If surrounding homes have tidy, simple kitchens with [laminate] or tile countertops, then your home should as well," advises real estate company Trulia, based in San Francisco. "If granite and flagstone are the local flavor, upgrade your counters similarly."
The following collection of products is another good place to start. You'll fi nd some of the hottest new developments in the K+B category, from cutting-edge industrial-style faucets and sleek toilets with intelligent functionality to ingenious linear drains and concrete-based kitchen cabinets.
Specified carefully, they'll raise the style and appeal of your kitchens and baths, satisfy your clients, and, hopefully, help you sell more houses.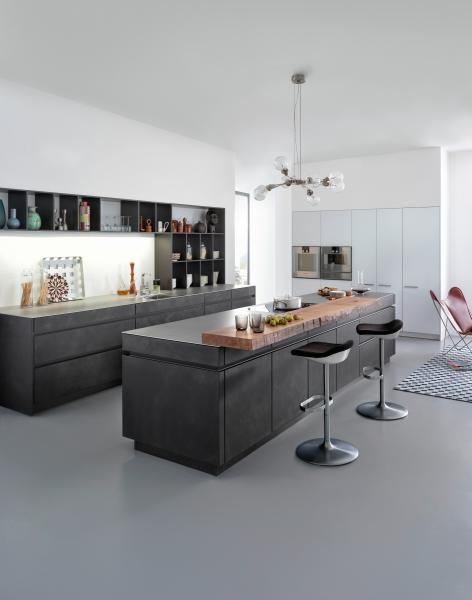 LEICHT
The manufacturer's unusual cabinet line features fronts made from concrete that is hand-applied to a lacquered MDF base, resulting in a surface with varying light refraction. A matte lacquer ensures durability. Various colors are available.
 
"We are typically looking for smaller and sleeker appliances than most builders. We obsess over clean lines and simple handles. We only use fridges under 30 inches wide and spec hidden controls on all dishwashers." 
—Chad Ludeman, President Postgreen Homes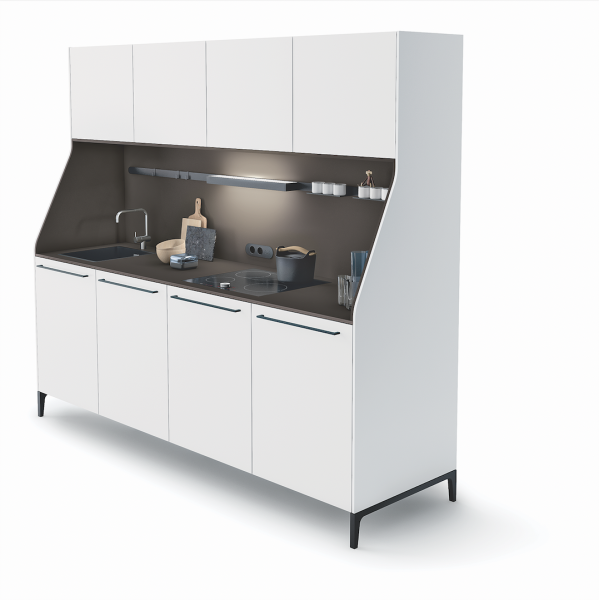 Part of the company's Urban design line, the 29 sideboard draws inspiration from the city-dwelling lifestyle. The unit has gently curved side panels and black matte metal legs. Users may customize the product with color or material options. It accommodates a stovetop, a sink, and a faucet. 
THE AVERAGE COST TO REMODEL A KITCHEN: $19,920
Source: Home Advisor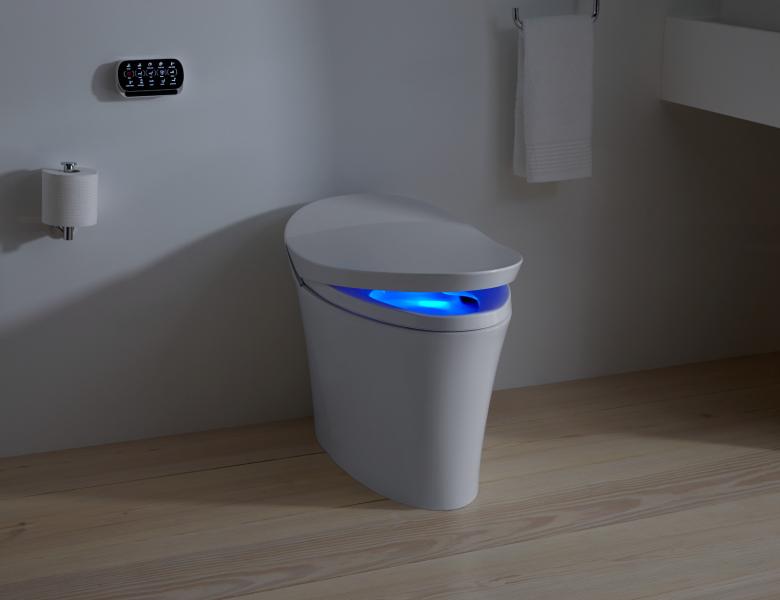 Offering a sleek design aesthetic, the Veil Intelligent toilet has a concealed tank and a host of high-tech features, such as automatic open/close. The unit incorporates a stainless steel bidet wand with warm-water cleaning, warm-air drying, and a UV light to sanitize the bidet wand surfaces. 
"When it comes to selecting fixtures, I look at quality and aesthetics. For me, quality isn't just about how well a product is made or about how it feels: Energy efficiency is something I take very seriously with all of my projects, so it's also important that faucets and toilets be as efficient as possible. Of course, looks do matter too; I always prefer something that's modern, minimal, and geometric." 
—Jorge Mastropietro, AIA Principal/Founder, Jorge Mastropietro Architects Atelier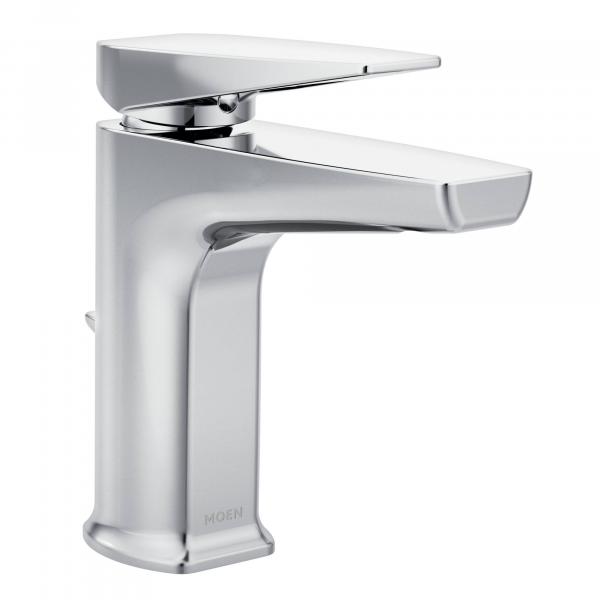 The modern-style Via bath faucet features a 1255 Duralast ceramic disc cartridge for durability and a low-profi le height. Offered in a chrome finish, the faucet flows at 1.2 gallons per minute. Two-handle widespread options are available. 
FAUCETS USED THE MOST BY CONSTRUCTION FIRMS IN THE UNITED STATES IN 2014
Moen 32%
Kohler 23%
Delta 18%
American Standard 6%
Pfister 3%
Danze 2%
Elkay 2%
Grohe 2%
Eljer 1%
Franke 1%
Gerber Plumbing Fixtures 1%
Hansgrohe 1%
Sterling 1%
Source: Statista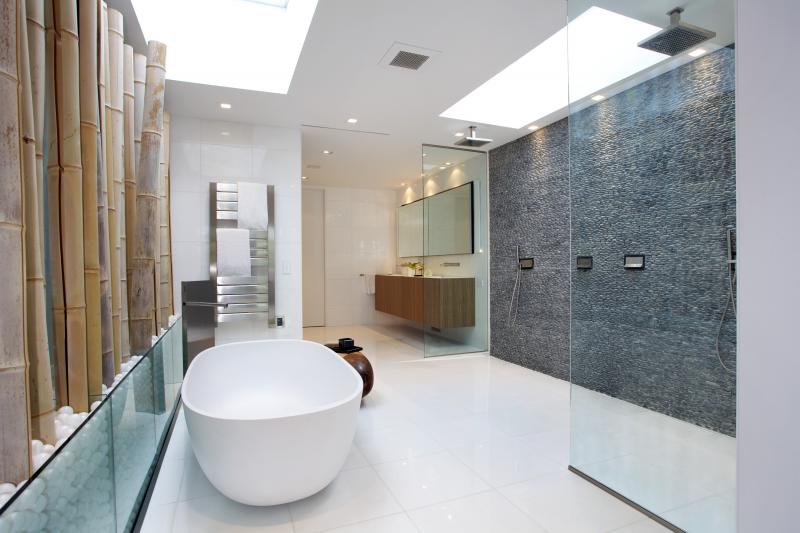 Molded from a Cristalplant composite material, the company's Iceland freestanding tub features soft, rounded lines and a siphon and overflow. A variety of complementary faucets, including the Cut tub filler, also are available. 
"[I like] quartz for countertops: They are relatively new, but they have many good qualities. Not only are they attractive, the finishes are rich and luxurious and come in a wide array of colors." 
—Keira St. Claire, ASID Designer, Anthony Wilder Design/Build
This story originally appeared in the Spring 2016 issue of PRODUCTS magazine. See the print version here.