When it comes to connected building products, Jenna Sheingold has no problem lending some tech support to her high-end whole-house remodel and historic preservation customers in Portland, Ore.
"As a millennial, I'm more of an IT expert than most of my clients," says Sheingold, founder and creative director for Jenna Sheingold Studio. "Technology is standard for me, it's mostly easy, and it can be an added value to teach clients about the connected home so they can get as excited about it as I am."
From sporadic interest just a few years ago, 100 percent of Sheingold's clients are now asking about the connected home, prompting an Internet of Things (IoT) discussion in the early stages of project planning to review product options, investment levels, whole-house Wi-Fi systems, and even how homeowners will eventually use (and upgrade) smart products.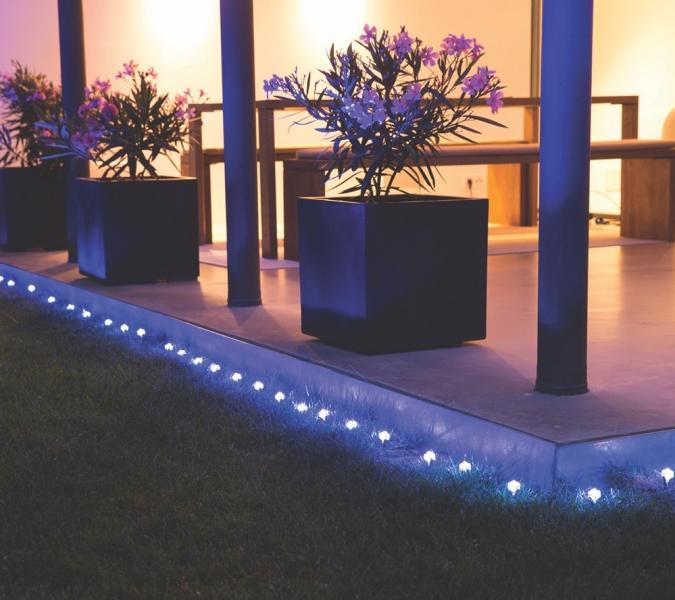 Apple HomeKit-enabled Sylvania SMART+ lighting doesn't require a separate command hub, smart socket, or Wi-Fi router. Bluetooth-enabled bulbs screw into standard sockets for control with the Apple HomePod app or via voice command to Siri. The A19 full-color light bulb can be turned on and off, dimmed, adjusted from cool to warm white tones, or changed to millions of colors.
Sheingold's not alone. With Google Home, Amazon Echo, and Apple HomePod competing for digital assistant popularity, homeowners are increasingly looking to interact with appliances, building systems, and more. Building product manufacturers are hot on the trend, developing lighting, HVAC, security, and even pool and barbecue technology to complement the smart fridge, dishwashers, and ranges that trended fi rst in the category. With supply cranking up to meet demand, residential contractors are increasingly on the front lines of connected home product recommendations, installation, and (like it or not) even tech support.
"The connected home is gaining strong momentum with builders and homeowners as new products enter the market and become more accessible," says Caleb Klein, product manager for Insynctive Technology at Pella, which has developed IoT-enabled sensors to let homeowners know if doors and windows are open, closed, or locked via mobile app. "It will be important for residential contractors to stay on top of the trends or partner with technology providers to meet consumer needs, and they should also look for ways to include connected-home technologies to stay relevant and increase profit potential."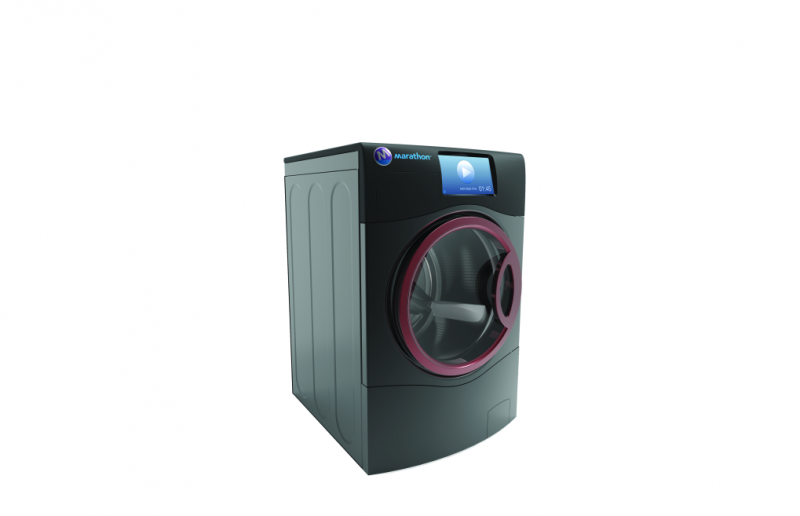 This Wi-Fi-enabled combination washer/dryer remembers user-specific settings and can be programmed to launder clothes during off-peak hours for maximum energy savings. A 7-inch touchscreen interface and smartphone app allow homeowners to monitor laundry, set start and stop times, see how much time is left, or restock detergent with one-click ordering.
FUTURE PROOFING
Often overlooked by both homeowners and contractors alike in the rush to adopt the latest smart home technology is whether or not a property has a Wi-Fi network robust enough to support connected device bandwidth. According to the Cisco Visual Networking Index, U.S. homes in 2017 already support an average of five connected devices over home networks.
"For a typical single-family home of four people, that could mean 20 or more devices coming in, not including what the builder is connecting to the network," says Randy Ryder, marketing and business development manager at Austin, Texas-based Wi-Fi Alliance, a nonprofit working with Lennar and other builders to develop Wi-Fi standards for new single-family construction. For Wi-Fi capacity to support the connected home, "the network has to deploy so peak utilization is at 50 percent or under," Ryder says. "That gives the network the ability to grow with the user and still provide the same quality of experience."
Contractors and homeowners should also investigate how connected products perform in the event of an Internet or power outage. Sheingold, for one, has had projects where a dud Wi-Fi router meant constantly reconnecting smart appliances to the network every time the signal dropped.
At Bosch Home Appliances, developers make sure things work in analog mode before adding smart technology. "None of our products are Wi-Fi-dependent—even our thermostat can be controlled manually," says Kyle Murray, director of marketing at Bosch Thermotechnology. "There may not be functionality if you don't have power, but that is typical of anything with electronics. Connectivity and what it can provide is still very much a novelty, and manufacturers are very cognizant that a product still has to work even if it is not connected."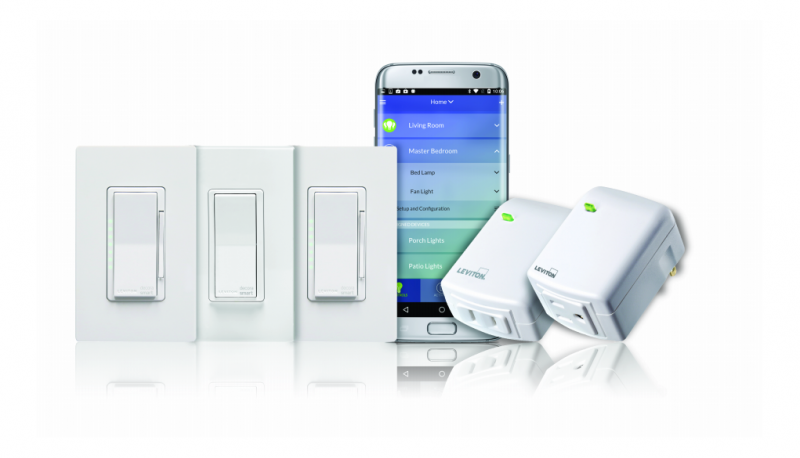 Decora smart dimmers, switches, and plug-in modules are available with Wi-Fi technology or Apple HomeKit technology to control lights and outlet-powered products using the My Leviton app or Apple Home app. Also compatible with Amazon Alexa and Google Assistant for voice control, dimmers and switches can connect to other popular home automation products via my.leviton.com, the maker says.
YOU TALKIN' TO ME?
Then there's the prospect of connected home appliances talking to each other. While a sprinkler system might not seem to have much to do with a refrigerator, connected home devices controlled by a central hub such as Echo or Google Home could ostensibly work in harmony to optimize total homeowner use of water and energy. Other (non-cybernetic) parties interested in IoT-provided appliance and product data include utilities already in the connected home game with smart meters, repair technicians looking to troubleshoot problems remotely, and manufacturers that can use deployed building products as a national R&D network for collecting performance data.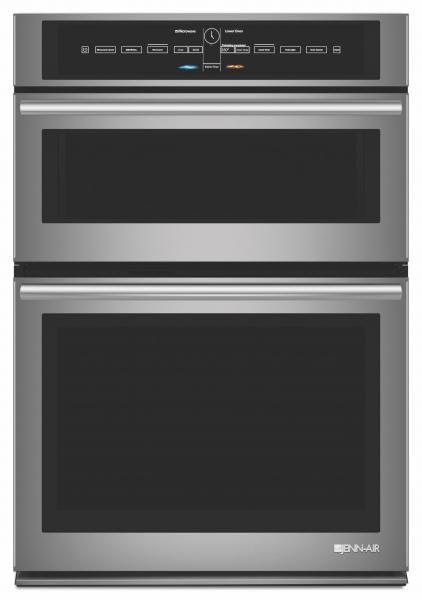 The Connected wall oven features a vertical dual-fan convection system, 7-inch full-color touch-anywhere LCD display, and auto-close doors. Available in single, double, and microwave/wall oven confi gurations, the ovens integrate with Google Assistant or Amazon Alexa, or are controlled via mobile app.
"We think it's great if your dishwasher can tell you it is leaking or if it needs a part repair and tells your installer," says Murray. "It saves the contractor and the homeowner time and money and prolongs the product life with regular services." With homeowner privacy top of mind, Bosch, like most building product manufacturers not involved in lighting, has elected to keep control of its smart devices within a specific app and not subject it to the voice control (or data monitoring) of home assistant devices from Google, Amazon, and Apple.
"We want to make sure that the homeowner directs who has access to their connected home and its data at all times," Murray says. "But regardless of interface, we're not planning on selling anything anymore that doesn't have self-diagnosis. Our products will be connected to apps to provide performance and repair information and send a message to the homeowner or the homeowner's contractor. We're working on all of those things."
This story originally appeared in the September/October 2017 issue of PRODUCTS magazine. See the print version here.