Sustainable prefab home manufacturer LivingHomes has added the AD1 accessory dwelling unit (ADU) that can also function as a tiny home.
Designed to fit in the backyards of existing single-family homes, the company's first standard ADU costs an estimated $99,000. Factoring in site and utility work, permits, and other fees, a complete AD1 base unit can cost as little as $160,000 in the Los Angeles area, the company estimates.
READ: New Startup Unveils Technology Promising to Transform Prefab Home Market
Benefits of ADUs, the the Santa Monica, Calif.-based company says, include creating a secondary rental income, affordably increasing the occupancy of developed land, and creating living options for multi-generational families. The small home can also be built as stand-alone structures on an empty lot. LivingHomes builds homes across North America, but regulations for ADUs can vary greatly by state, county, and municipality. (Check here to see the rules in your area.)
"Thanks to Governor Brown, ADUs are now permitted in all cities in California," says LivingHomes CEO Steve Glenn, referring to the firm's home state. "This means that if you have a single family home anywhere in the state, you can add an accessory dwelling unit to your property, which you can use for additional housing or rental income."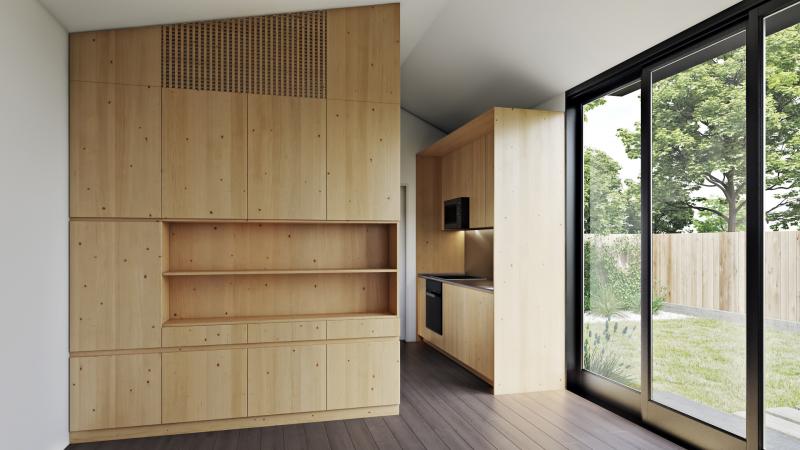 LivingHomes, a subsidiary of prefabricated home builder Plant Prefab, produces its building components in Plant Prefab's 62,000-square-foot factory in Rialto, California. As such, the AD1 comes complete with all finishes, fixtures, and appliances. The 400-square-foot space measures 14 feet 6 inches by 29 feet 6 inches and includes a living room, full bedroom, kitchen, and full bath. The structure can be hooked up to utilities, installed, and finished in one day or less, the company claims.
"We designed the AD1 to offer an affordable, practical, complete, and fast solution," says Glenn. "The AD1 requires minimum site prep and we can build them at our factory in only one month."
AD1 units use a helical pile foundation system when possible, which uses of screws piles that are anchored into the ground. This type of foundation can be installed in one day prior to installation and takes less time than conventional foundations, the company says. The homes also feature a hybrid steel and wood frame, a metal roof with optional solar panels, LED lighting, a forced air HVAC system, and a tankless water heater. Three interior and three exterior finish packages are available, with additional millwork options possible as an upgrade.
Finished AD1 units have high-performance envelopes with LEED Platinum-level design and are optimized for Seismic Categories E and F and high fire hazard zones.