Despite growing consumer interest in backyard living and entertaining, outdoor lighting often remains an afterthought. Yet, as LED technology continues to improve in both brightness and efficacy, the options for using light to enhance safety and boost ambience and enjoyment of the outdoors are increasingly abundant, convenient, and smart.
Not surprisingly, LEDs have become the light source of choice for most exterior applications. Energy efficient, long lasting, and low maintenance, LEDs are also small and directional, making them ideal for highlighting landscape and architectural features without drawing attention to themselves during the day. Integrated into deck rails and stair risers, they enhance safety, meet building codes, and are easier to install, says Chris Camfferman, category marketing director for Deckorators.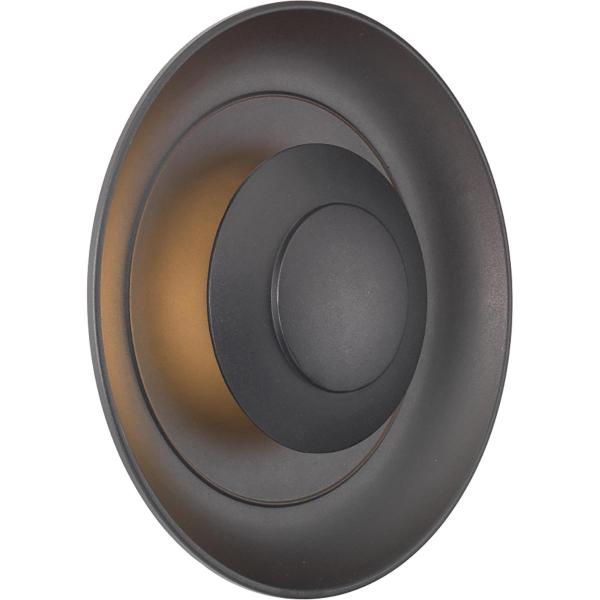 The Z-1050 wall sconce measures 12 inches in diameter, extends 3 inches, and is equipped with a replaceable 9-watt LED module protected by a glass enclosure. Available in a textured black finish, the fixture produces 670 lumens of 3000K white light with a 90 CRI and is ADA-compliant and wet-location listed.
NEW AND IMPROVED
According to Rajat Bhayana, product manager of lighting solutions for Eaton, newer LEDs boast even higher lumen output and efficacy, enabling more compact, less obtrusive fixtures—a welcome development in landscape lighting applications. Color consistency also has improved, as has the ability to render color, with some LEDs achieving a color rendering index well above 90. Fixtures with builtin LEDs are less prone to performance issues than those accommodating replacement bulbs, but they generally cost more.
Replacement LEDs offer greater design flexibility, as they come in a broad array of beam angles. "If you decide you want a wider beam, you just put in another lamp with a wider angle," says landscape lighting contractor Anthony Bogdanovich, owner of Los Angeles-based Imagine Lighting. For him, the cost benefits and convenience outweigh the risk of lamp failure.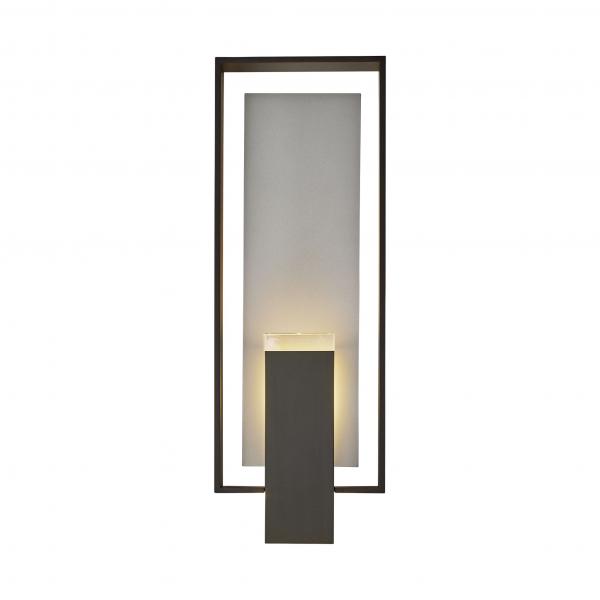 Shadow Box is a new series of contemporary-style outdoor wall sconces available in three ADA-compliant designs, including a large sconce (shown) measuring 21 1/5 inches by 7 1/2 inches by 4 inches. The fixtures use incandescent bulbs and come in a choice of six coastal finishes designed to withstand harsh conditions.
Recent years have seen the introduction of smart outdoor fixtures and lamps with tunable white light and color-changing LEDs. Via a phone app, users can adjust color temperature to enhance different exterior finishes and species of trees, or incorporate color effects for drama or special occasions. New this year, Philips' consumer-oriented Hue platform has added an outdoor spotlight and path light capable of producing a full range of color temperatures and 16 million colors. The line extension includes single-color–temperature outdoor sconces and a PAR38.
The use of LEDs has enabled integration with voice-assist platforms such as Amazon's Alexa and Apple HomePod, which has created a lot of opportunity for outdoor lighting, Bhayana says.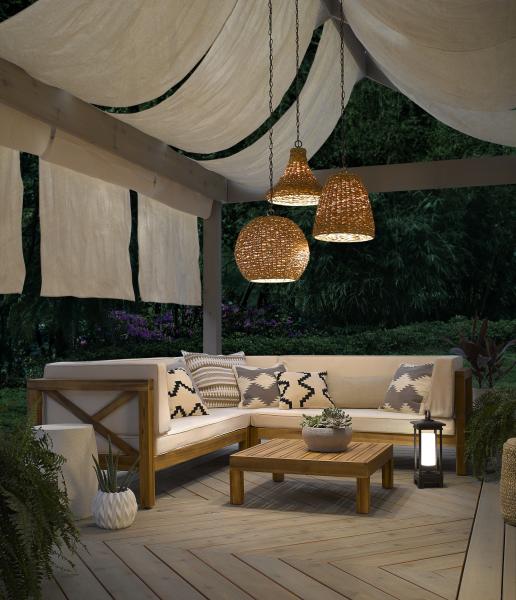 The Palisades Collection offers outdoor pendants with weather-resistant synthetic wicker in four designs, including a teardrop-shaped model (not shown), in Natural Wicker or Chestnut Wicker. The fixtures are illuminated with an A19 incandescent bulb but can take a CFL.
DECORATIVE FACTORS
In decorative lighting, LEDs' diminutive package has produced sleeker designs that, in some cases, weren't possible with legacy sources, according to Colleen Visage, vice president of product management for Progress Lighting. The company's new Z-1050 wall sconce, for example, meets ADA requirements with a modern circular design that extends just 3 inches from the vertical surface.
Interestingly, consumer demand for taller ceilings in new-home construction has also influenced decorative outdoor fixture design. According to Jeffrey Dross, corporate director of education and industry trends at Kichler Lighting, taller ceilings require taller exterior elevations and proportional fixtures. Where products typically ranged from 8 inches to 12 inches in height five years ago, "we're now at a minimum of 12 to 15 inches, even stretching up to 18 inches to accommodate this change in architecture," Dross says.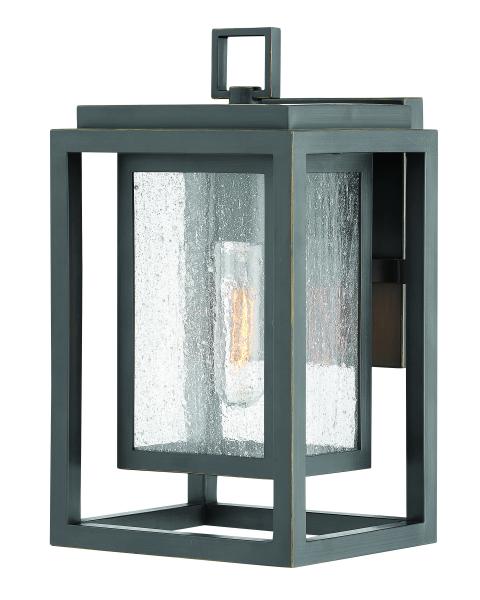 Designed for durability in tough climates, the Coastal Collection consists of pendant and wall-mounted lanternsmade of a durable composite material.It's offered in two styles: Atwater offers a classic look, with brass accents and a post-top mounted fixture, while Republic (shown) has a contemporary dual-frame design. Both are recommended for use with incandescent filament bulbs.
Shifting preferences in new-home design are driving interest in fixtures in black, gray, and pewter-like finishes. The colors complement the gray tones favored for exterior building materials by a new generation of homeowners and home builders. "There is some regionality," Dross adds. In the Southwest, where the tiled roofs are often reddish brown and homes have cream or beige stucco exteriors, bronze remains king.
In more upscale homes, lavish outdoor spaces have become a way for homeowners to entertain alfresco but also extend their living space, Dross says. Manufacturers have responded with outdoor-rated chandeliers, pendants, and floor lamps in casual farmhouse and industrial styles reflective of interior trends.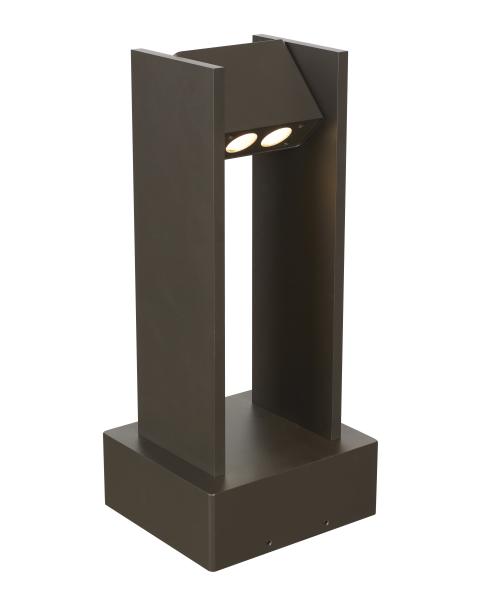 The Zur family comprises wall sconces, bollards, and path lights featuring a pivot design that aims light where it's needed. Fixtures are offered in a black, charcoal, or bronze marine-grade finish. The path light (shown) measures 18 inches by 6 1/10 inches and emits 3000K white light with a CRI above 90.
Edison-style filament bulbs remain popular and can now be specified in a variety of LED versions and in color temperatures as warm as 2400K and a candelight-like 2150K, says Randall Whitehead, eponymous principal of the San Francisco-based lighting design firm. For clear-glass lanterns, he likes LED-based flame bulbs, which, he says, "really look like a gas fl ame at night" and, at $18 apiece, are affordable.
Going forward, LED products will only continue to proliferate and become better integrated with smart home platforms, more affordable, and, in turn, help homeowners to see the opportunities provided by outdoor lighting.
This story originallly appeared in the May/June 2018 issue of PRODUCTS magazine. See the print version here.
See more lighitng solutions news from PRODUCTS magazine here: