In the past, deck railings have been treated as an afterthought, a secondary consideration once homeowners choose the boards and planks. And yet, the visibility of the railing system is just as prominent—and perhaps even more so—than the material underfoot.
That's all changing as homeowners continue to place more emphasis on outdoor living. With growing demand for outdoor living spaces, buyers are giving greater consideration to the whole decking package and how it meets their unique lifestyle and personal design preferences. "Homeowners are continuing to view the deck as another room in the house, and more and more they are taking time to plan that outdoor space," says Chris Camfferman, category marketing director for Deckorators.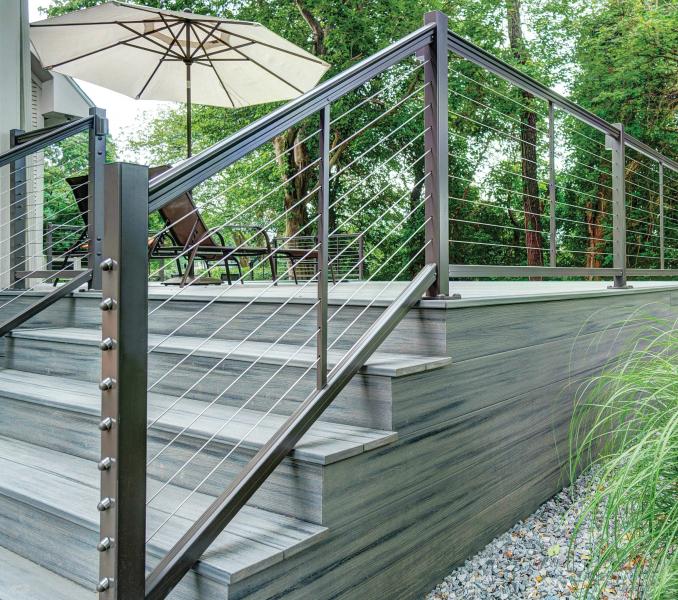 Prepackaged DesignRail aluminum railing kits are designed for use with the company's CableRail infill. Post kits are pre-drilled, and components snap and screw together for easy installation. The kits' 6000 series aluminum extrusions have AAMA 2604 powder-coated finishes for durability.
When you look at outdoor living areas, "the railing is a key design feature, and people are starting to discover that," says Brad Adsit, product development/engineering manager at Feeney. "People aren't just slapping a deck on their house; they're wanting to incorporate it into the overall design of their home, and the railing is a key part of that."
And homeowners have more options than ever, with different materials, designs, and accessories that maximize functionality. "The options in railing styles continue to grow significantly, and homeowners are becoming more sophisticated in their design preferences," says Jenna Herron, railing product manager for Azek Building Products.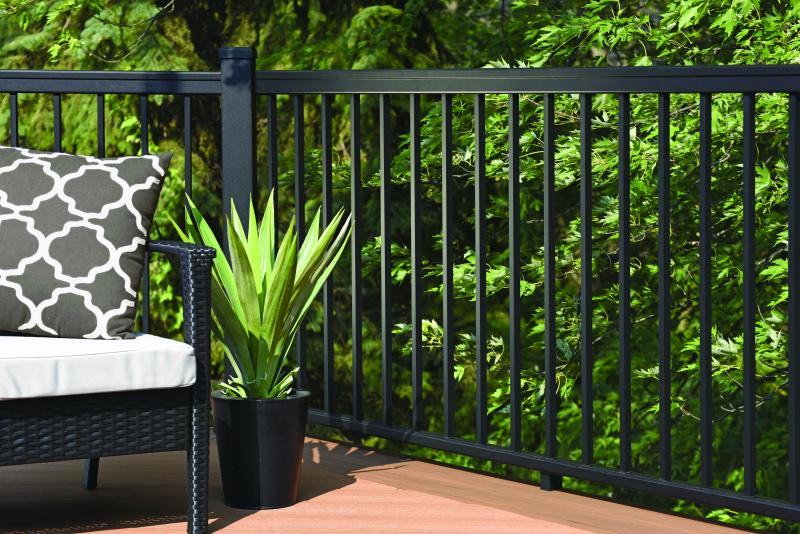 The Impression Rail Express panelized aluminum system offers the high performance and low maintenance of the original Impression Rail plus patented technology that locks each baluster into place at the top and bottom for a full-contact connection. The railing panel drops between the posts and secures with hidden brackets. Three colors and glass or aluminum infill options are available.
"You can put up something and have it be functional. But you're missing an opportunity to really add to the living space," says Kevin Harris, director of sales and marketing for AGS Stainless. "We call rails 'functional artwork' because they have the potential to add so much to the living space."
One noticeable trend is an increase in cable infill offerings, with options now available from nearly every manufacturer. Though horizontal cable railing has been around for a while, some markets and segments are just starting to see it catch on, while others are experiencing growing momentum.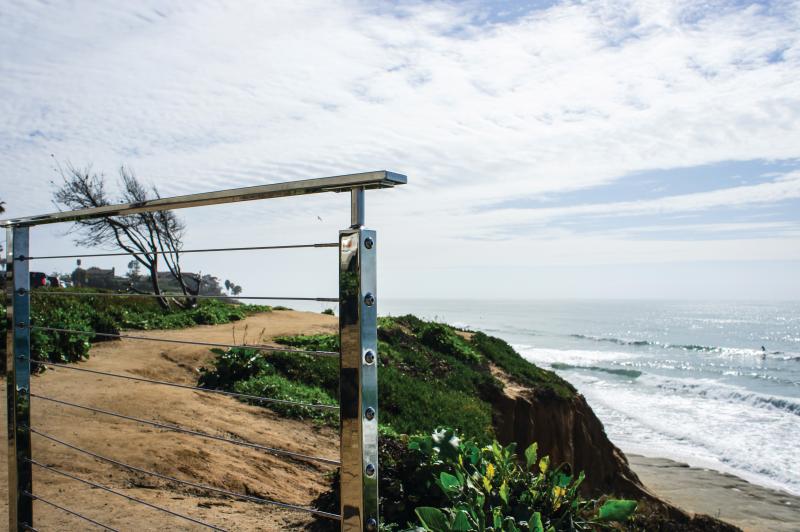 The company now offers a high-polish finish for its line of custom-made prefabricated stainless steel railing systems. The railings are made with A316 (marine-grade) stainless steel, like the company's other products, providing corrosion protection for coastal projects.
The uptick stems from several factors, most notably the growing shift toward more modern styles and clean, sleek aesthetics. "It has a very contemporary look," says Feeney's chief product officer, Andrew Toimil. "If you look at what's going on in building and architecture, it falls right in line with that."
Harris agrees: "Cable fits very nicely into modern design, and there's definitely a growing trend in the design community toward more modern styling in residential construction. The cable really fits well in that space."
It's also an ideal option for observing what's beyond the deck, whether that be nature, skylines, or kids at play. "It doesn't obstruct your view," Toimil says. "You get back 10 feet and it almost goes away."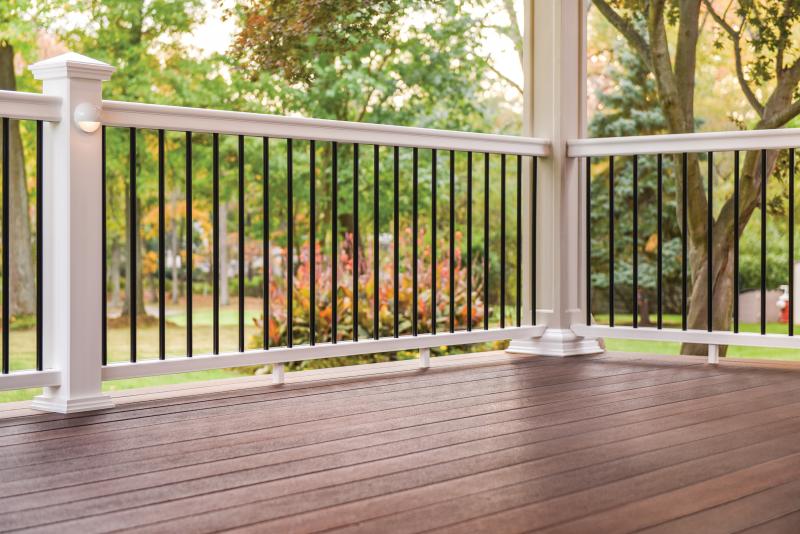 Symmetry composite railing features a soft satin finish, a classic sculpted top rail, and hidden hardware. Baluster choices include square beveled balusters in white, black, or brown, or round aluminum balusters in black (shown).
Whatever the style preference, "Mixed materials and colors continue to be a style trend in railing, allowing homeowners to achieve custom looks ranging from traditional to modern," Herron says.
Indeed, as homeowners spend extra dollars on crafting their outdoor spaces, they're more likely to mix materials and colors, Camfferman says. He adds that it's becoming increasingly common to see a composite deck with a metal rail and glass balusters, creating a look that is simultaneously both modern and timeless.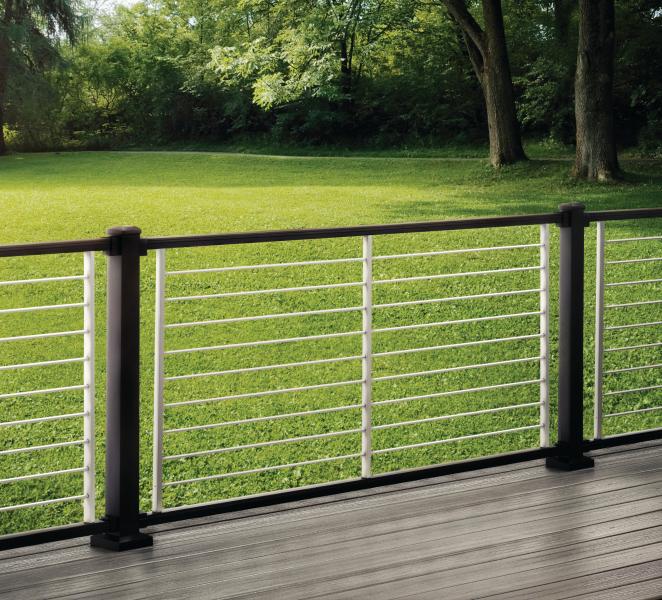 With a spare, sleek design, Signature Rod Rail powder-coated aluminum railing emulates the look of horizontal cable rails but requires no special tools or tightening. Rod Rail can be used with a cocktail rail, which provides a resting spot for plants, drinks, or other items.
And there's good news for builders and remodelers crunched by the labor shortage: More and more railings arrive as prefabricated panels, easy-to-follow kits, or with other preassembled parts. For example, Feeney's new CableRail Conceal low-profile cable rail comes in prefabricated assemblies that trim to fit in the field, along with specially designed tension fittings and quick-connect fittings for easy installation. AGS offers custom rails, but as prefabricated systems that are simple and easy to install with just a few screws.
All of this adds up to opportunity for pros. "We think that if builders consider rails more as a way to really add to the living space—as opposed to just being functional—they're going to sell more rails and are going to be more likely to upgrade their customers to a nicer rail," Harris says. "In this space, you can add a lot of visual impact without spending a lot of money."
This story originally appeared in the March/April 2018 issue of PRODUCTS magazine. See the print version here.