A 2018 Home Improvement survey from LightStream revealed that 58 percent of homeowners plan to take on home improvement projects this year.
LightStream, the online lending division of SunTrust Bank, found that 45 percent of respondents have a planned renovation budget of $5,000 or more, the highest percentage in the survey's five year history. In addition, the number of respondents planning to spend more than $35,000 doubled from 2017.
Traditionally popular areas for renovation remain top of mind. Backyard updates ranked as a top priority for the fifth year in a row, with 43 percent planning some changes. Following the outdoor category were bathrooms (31 percent) and kitchens (26 percent). Respondents were able to list multiple areas.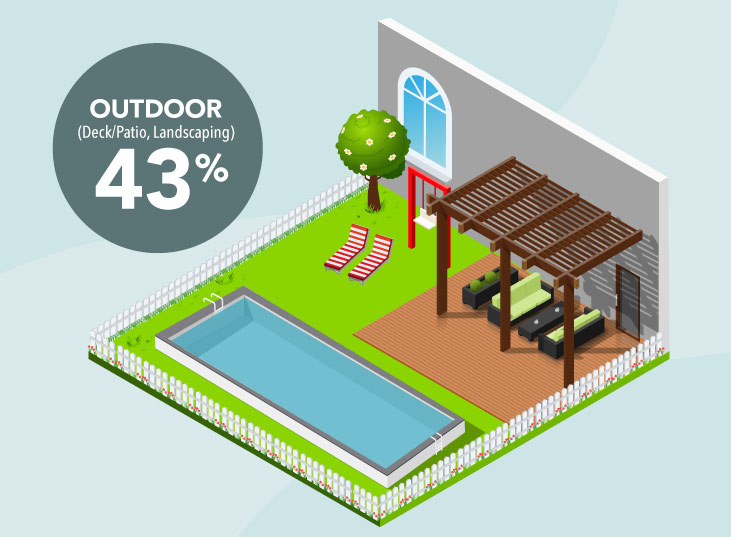 Photo courtesy of SunTrust Bank, Inc.
Changing, though, are the reasons for renovating. This year's survey found that only seven percent of homeowners are renovating to sell their homes, the lowest percentage since 2015. Instead, accessibility is a growing focus, with 14 percent of respondents across all age groups renovating to prepare for aging in place.
Why this year's rise in renovations? Sixty-two percent of homeowners plan to pay for projects at least in part with personal savings, and some (18 percent) stated that the recent tax reforms have added to their budget. (Seven percent said their budget decreased due to the reforms). In addition, 54 percent more 18- to 34-year-olds plan to fund projects with home improvement financing than in 2017, signalling a greater comfort with loans. Home loan usage increased 29 percent overall.
"Consumers are becoming more comfortable with home improvement loans because of the availability of higher loan amounts, speed of delivery and the overall flexibility they provide," says Todd Nelson, LightStream senior vice president.
Homeowners funding with home equity lines of credit (HELOC) also jumped from 10 to 13 percent year over year.
"U.S. economic growth and limited housing inventory have contributed to healthy home equity gains," says Ellen Koebler, SunTrust head of consumer solutions. "HELOCs can offer a financial solution for many homeowners, as accrued value may be available to tap for renovations."
Finally, the majority (65 percent) of respondents said that they plan to do at least some renovation work themselves. This was especially true of those age 18-34, of which 70 percent said they would take on part of the renovation work.