Designed for tailored architectural lighting solutions, WAC Lighting's Pixels sheets allow designers and remodelers to cut just the right amount they need.
"Pixels illuminate virtually any surface with a flexible paper thin, modular, and scalable product," the company says. "Uniquely versatile, Pixels can backlight architectural features and signage or can be applied to stone, acrylic, glass, mica, and other fine materials to extend the boundaries of what can be illuminated imaginatively on ceilings, walls, floors, and other surfaces in any shape or size."
Available in modular, customizable 12-by-24-inch sheets, the product has an ultra-thin 1/8-inch profile and is spaced on 1-inch center. Users can mount the pieces to curved or flat surfaces by tacking, stapling, or using 3M adhesive on the back.
"Push-in connectors are located every 6 inches to provide power on either side, and you can create unusual shapes or avoid obstacles by cutting along the dotted lines in the field," the company says. "It's the future of fixture-free lighting." 
The luminaires are 0-10-volts dimming and delivers a 90 CRI. Five color temperatures are available: 2700K, 3000K, 3500K, 4000K, and 5000K.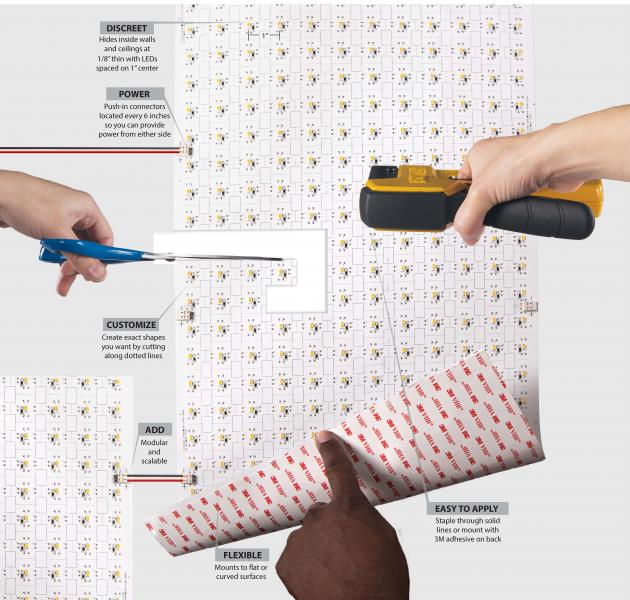 See more lighting news from PRODUCTS magazine here: