Society is going green, and the residential building industry is following suit.
As Americans grow more conscious about the environmental implications of what they consume, they more often demand sustainable solutions. This is true across many industries, but applies especially to products that go into homes.
Homeowners want to feel safe and healthy in their environments, and programs such as LEED and GREENGUARD have educated buyers about the environmental impacts that a home can have. From cleaner air to smaller footprints, homebuyers want to make a change. And builders and designers are putting pressure on manufacturers to meet these demands.
[Related: 5 ECO-FRIENDLY COUNTERTOPS THAT ADD BEAUTY WITH A SUSTAINABLE FLAIR]
"People are just becoming more aware," says John Stein, the owner of surfacing manufacturer Kirei USA. "They're looking for it, they're asking for it, whereas ten or fifteen years ago, green was just a hope for the future. Now most designers and most customers are looking for something with at least some level of sustainability, some recycled content story, some low-VOC story, or some health story."
One obvious green solution for the building industry has been recycling. As a general rule, people generate a lot of waste. And while this happens in all sectors of the economy, it's especially true in construction—for 2014, the EPA estimates a total of 534 million tons of construction and demolition debris, and nearly 166 million of those tons came specifically from residential and commercial buildings. The only good news about this is that there is a lot of room for improvement.
[Related: 7 WAYS TO INCREASE HOME RESILIENCY IN THE FACE OF CLIMATE CHANGE]
"Landfill waste is a problem that's not going away, so the more we can reuse these kinds of recycled content, the better," says Stein.
Stein went on to explain that he hopes Kirei products, which range from tiles made from discarded coconut shells to acoustic wall coverings made from recycled plastics, will show people that their recycling efforts go somewhere with a purpose.
"If you're just throwing stuff in a recycling bin and thinking 'You know what, it probably just goes to the landfill anyway,' you're discouraged," says Stein. "Utilizing these products to tell people the stories about where they go is really important, because [people] realize that...they don't all have to just get thrown away."
Despite much of this green push coming from consumers, the motivation to recycle can also come from within a company itself. Will Kimmerle is the founder of Artis Wall, a subset of Ohio-based wood products manufacturer Waddell Manufacturing. He says his company prioritizes sustainable practices in large part because it makes its employees happy.
"We have a lot of millennials here who really care deeply about [sustainability]," Kimmerle says. "It's not just the fact that we're trying to be a sustainable company; we do it because the people that work here really care about it. That's one of the things that keeps them coming back to work here, because they know that we care so much about the environment."
But actually using recycled content presents unique questions of sourcing, consistency, and quality, and manufacturers have had varied takes on each of these challenges. Neolith, manufacturer of a sintered stone product, claims that their process of breaking down all ingredient materials (up to 52 percent of which are recycled), allows the company to strictly control the quality and look of the composite slabs.
[Related: IS IT TIME TO GIVE STRUCTURAL INSULATED PANELS A SECOND LOOK?]
"Neolith is able to produce large format slabs of up to 3,200 by 1,600 millimeters, which means greater uniformity and continuity in finished spaces, easier handling, and minimized joints for aesthetic and hygienic benefits," says Mar Esteve, the company's marketing director.
Artis Wall, meanwhile, has taken an untraditional approach to sourcing reclaimed products. The reclaimed wood for its wall coverings are taken from standing barns in various states of disrepair. Working with farmers across the U.S., the Artis Wall team replaces the planks they take with new lumber, often sourced from local businesses.
"We gather the material for our beautiful reclaimed wood walls and we actually restore a barn in the process," says Kimmerle. "The barn owner can then get more life out of the barn."
For many manufacturers, sourcing recycled materials is just one part of larger efforts to reduce their footprint. Artis Wall's parent, Waddell Manufacturing, uses the world's thinnest-cutting curve saw, meaning the company produces very little waste in saw dust. The saw dust that is created is used for cattle bedding, Kimmerle says.
Neolith has partnered with PURETi to treat surfacing with the water-based photocatalytic solution. Together with sunlight, PURETi destroys nitrogen oxides and volatile organic compounds (VOCs) that come in contact with the product, Esteve says.
Whatever the reasons and whatever the measures, there are plenty of plenty of product manufacturers opting for sustainable methods for builders and designers trying to be a little greener.
Here are 15 products to incorporate into your next home: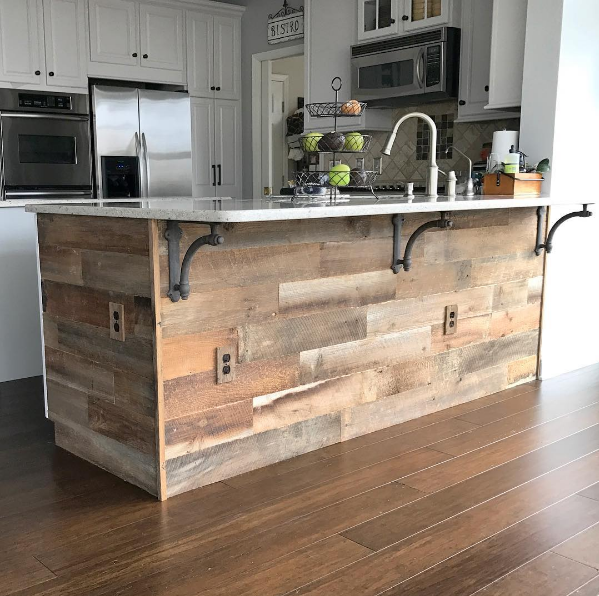 1. Artis Wall
Artis Wall is made from authentic reclaimed wood from around the US. Builders and homeowners can enter and individual plank's code into the Artis Wall website to see the age, location, history, and a picture of where the plank came from. The boards use a patented Velcro installation system, making the wall covering removable and reusable. Artis Wall won Best of IBS 2018 in the kitchen category.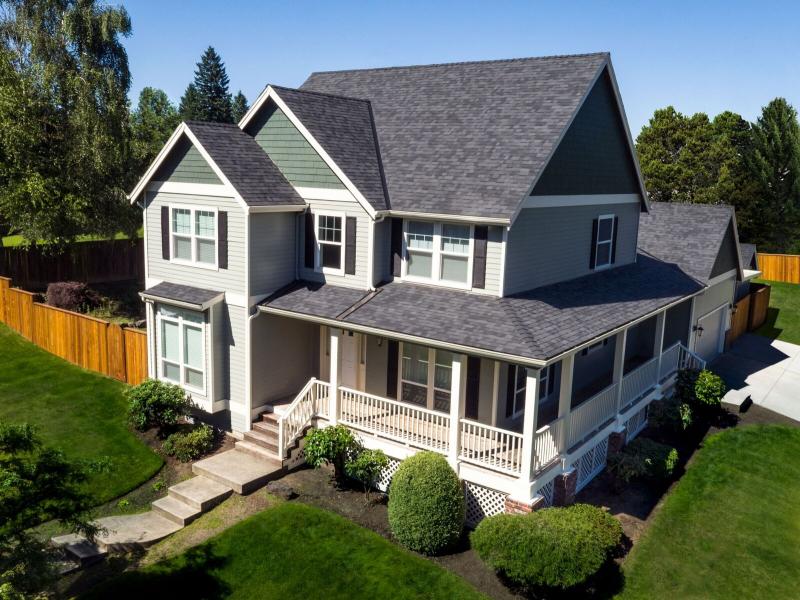 The roofing company partnered with GreenMantra, a company that recycles plastics, to source the main ingredient for their Vista shingles: recycled Crayola markers. Collected through Crayola's ColorCycle program, the markers' plastic casings are ground into flakes that are then converted into a polymer asphalt additive. The polymer makes Malarkey's asphalt shingles flexible and durable, the company says.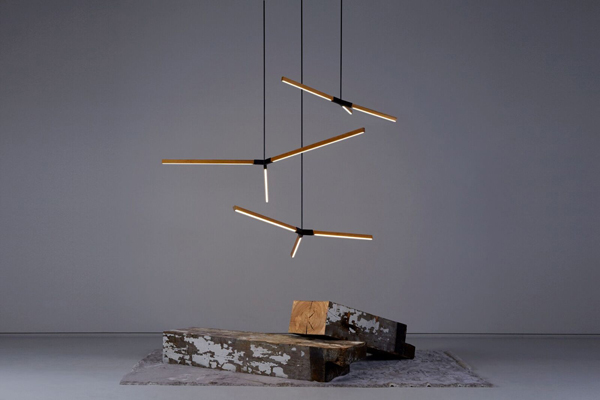 3. Stickbulb
Newly developed hardware connectors allow this Stickbulb creation to float in seemingly precarious positions. The heartwood used in this collection was sourced from the former Pullman Couch Factory in Chicago, Ill., which famously burned down in the winter, leaving it covered with ice after the fire department doused it with water. It was designed in collaboration with the design firm RUX.
"A material does not exist in a vacuum. Provenance matters," says RUX founder and Stickbulb co-founder Russell Greenberg. "We want to make things of meaning from parts that themselves have meaning. Out of this genuine respect for material origin will come a softer, more sustainable, more meaningful built environment."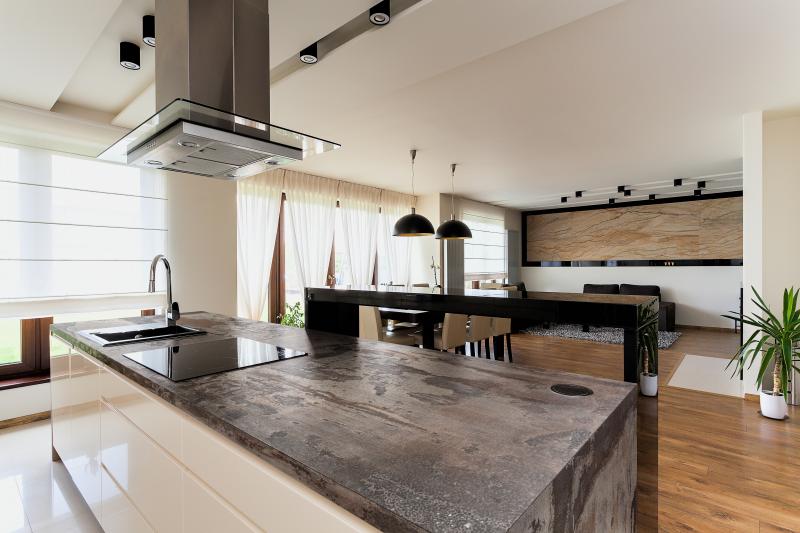 4. Dekton
Trilium is the first recycled color for Dekton, Cosentino's line of ultra-compact surfacing. Made up of 60 percent post-industrial recycled content from the company's own production process, the product draws inspiration from the industrialized look of oxidized steel, with a rusted effect that is smooth to the touch. It can be used indoors or out.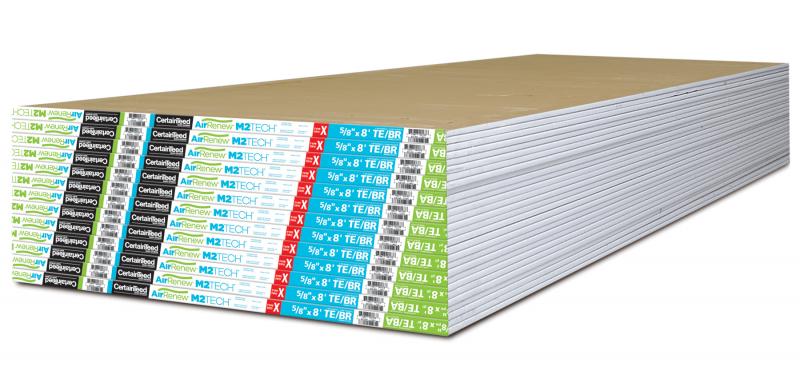 5. CertainTeed
AirRenew gypsum board from CertainTeed contains up to 96 percent recycled content, meeting criteria set by the LEED program. It also features the company's M2Tech technology, which consists of recycled paper treated to protect against mold growth. The board absorbs VOCs, including formaldehyde, and converts them into an inert compound, the company says.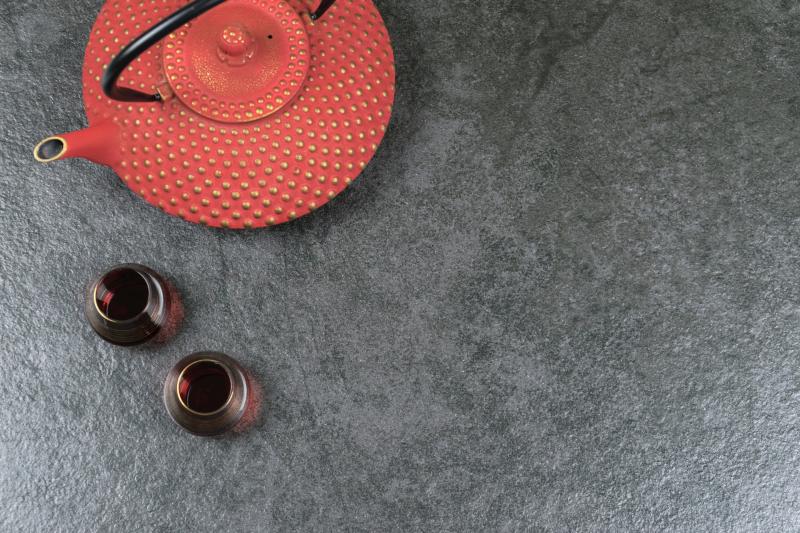 6. Neolith
All of Neolith's sintered stone surfacing is made from up to 52 percent recycled materials, and its natural composition makes it 100 percent recyclable. The composite is made up of the raw materials found in reused glass, porcelain, and quartz. The ability produce the mixture in large quantities gives the company great control over their product, Esteve says, and allows it to be specified in thinner thicknesses and larger formats. It comes in a number of colors and finishes, including the Fusion Collection's Krater (pictured), available in a silk or riverstone finish.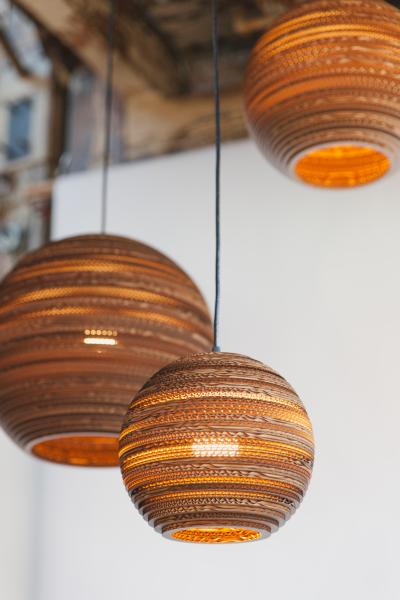 7. Graypants
The company's flagship Scraplight design is constructed from recycled cardboard. The material is laser cut and assembled by handing using a non-toxic adhesive and an environmentally friendly fire retardant. Pendants come in several shapes and either natural brown or white. The company has studios in Amsterdam and Seattle.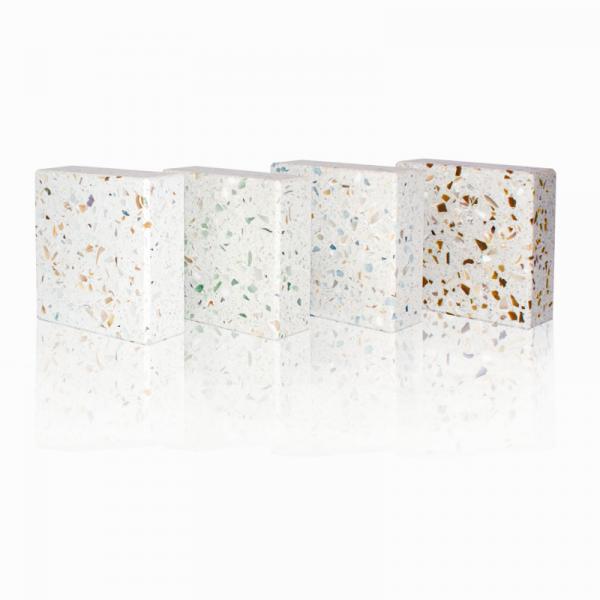 8. IceStone
Made in the U.S., this surfacing comes from 75 percent recycled glass by weight, as well as Portland cement and non-toxic pigments. Available in 16 color combinations ranging from classic neutrals to jewel tone colors, slabs measure 52 1/2 inches wide, 96 1/2 inches long, and 1 1/4 inches thick. The product is Cradle to Cradle certified and comes with a 10-year warranty.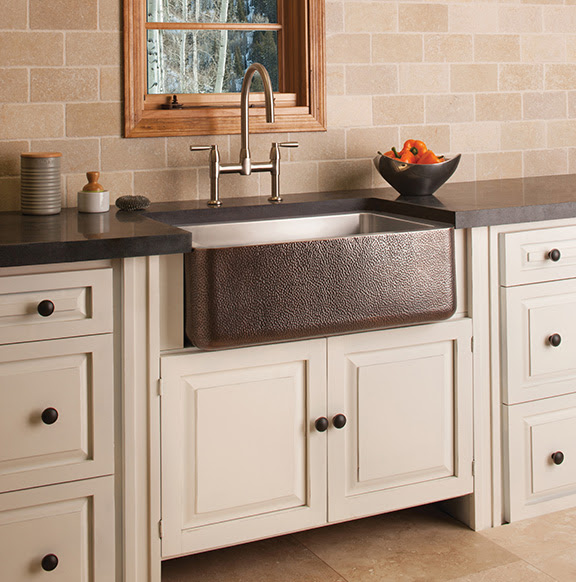 9. Stone Forest
The copper farmhouse sink from Stone Forest is made from 100 percent recycled materials, and 99.14 percent pure copper. The sinks are patinated by hand and can be displayed with either a hammered or smooth look. The unit is double walled on all sides and filled with foam to enable a number of flexible mounting configurations.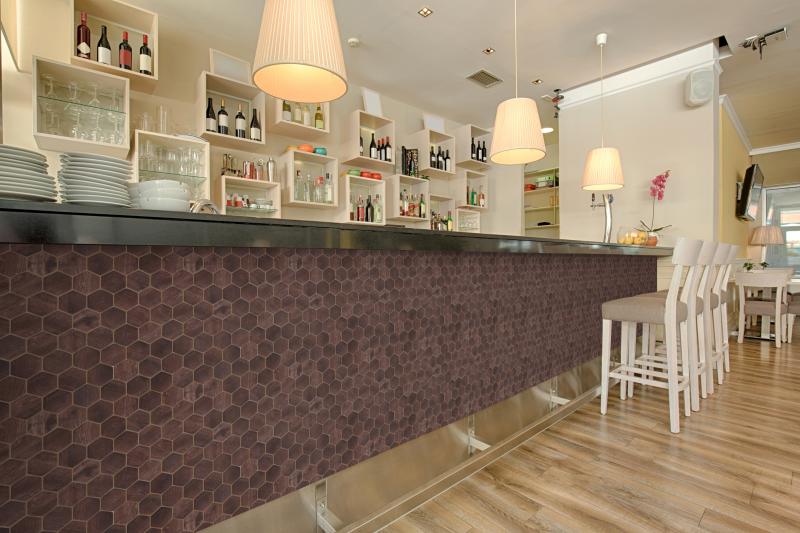 10. Emser Tile
The manufacturer's Echo tiles are made entirely of white, gray, brown, and calacatta-look glass. They come in both hexagon and herringbone mosaics and are finished with inkjet prints of wood grain and calacatta marble. The look is ideal for kitchens and baths, the company says.
"Emser Tile chooses to work with suppliers that recycle the maximum amount of material possible," the company says on their website. "Understanding the importance of water conservation, Emser Tile suppliers also recycle and reuse water during the manufacturing process."
11. Kirei
EchoPanel Balance acoustic wall tiles from Kirei are made of 60 percent recycled PET, or the type of plastic found in soda bottles. The wall panels come in three sizes and nine colors and are 24 millimeters thick for sound absorption. Created by Woven Image, the products have a peel-and-stick application for easy installation.
"Another aspect of being green is health," says Stein. "Sound is a big part of health. Poor-sounding environments have a lot of negative effects on people. If you can create a better-sounding environment, you can increase people's health."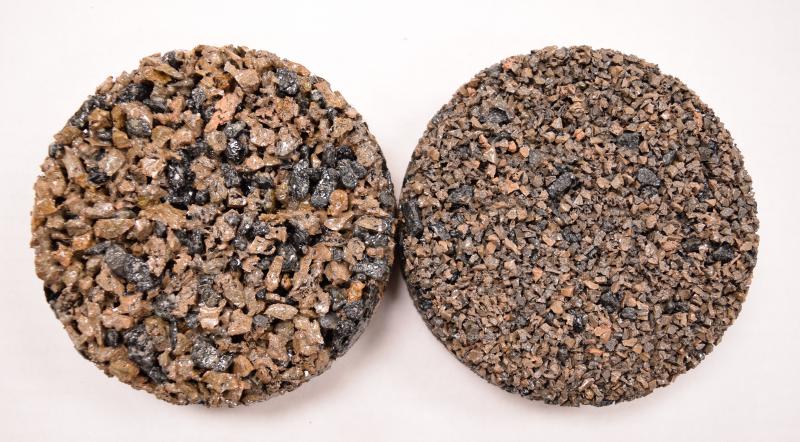 12. Porous Pave XL
Made with recycled rubber, every 1,000 square feet of two-inch-thick Porous Pave removes 300 tires from the waste stream. The pour-in-place material allows water to drain through its surface, minimizing stormwater runoff.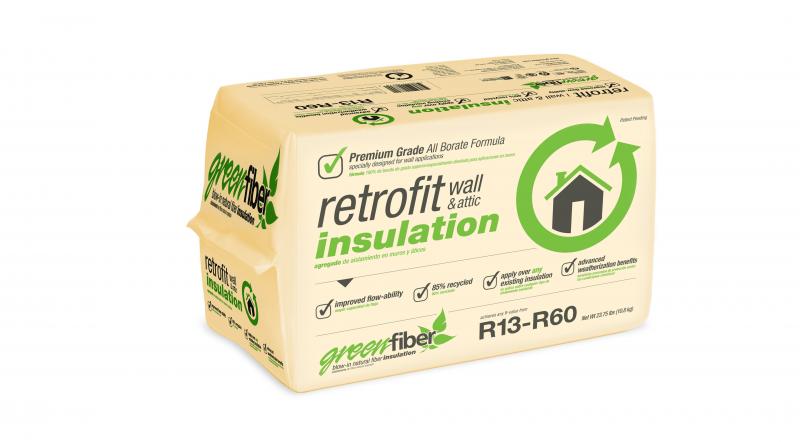 13. Greenfiber
Made from 85 percent recycled paper that has been treated for Class 1 fire resistance, this insulation is designed for dry dense-pack retrofit application in walls, but it also can be used in loose-fill attic applications. The company says they also use low-energy manufacturing and short-haul transportation.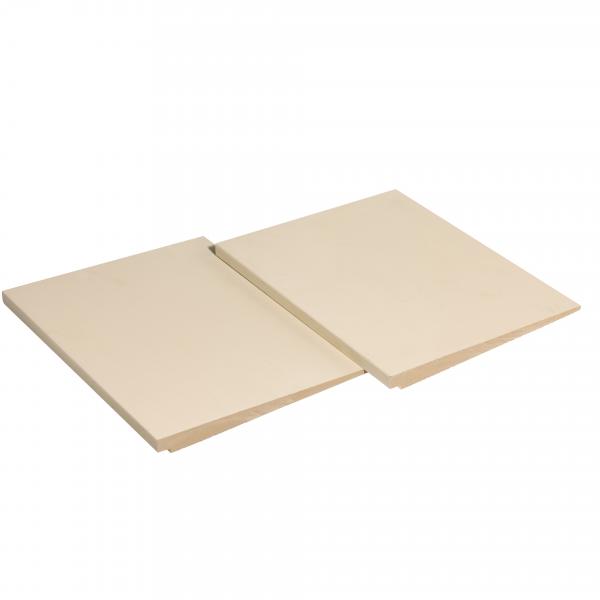 14. Boral
TruExterior siding is made up of 70 percent recovered fly ash from power plants, making it resistant to warping, moisture, and insects, the company says. It is now available with a rabbeted bevel (shown) for a consistent look and faster installation.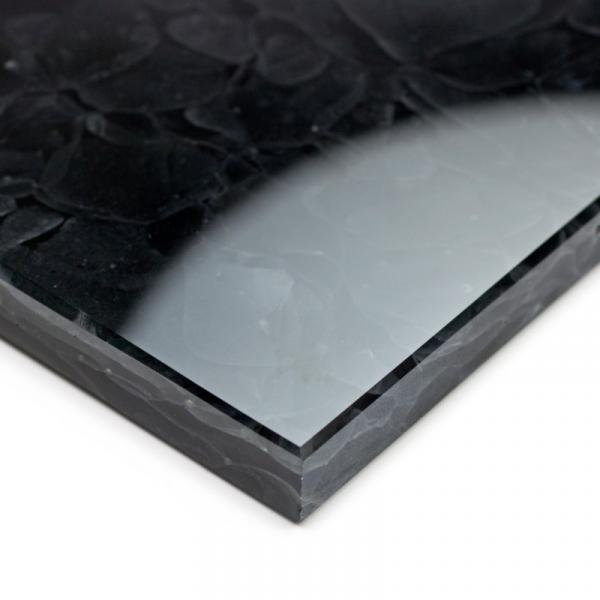 15. Coverings, Etc.
Bio-Glass, pictured here in Noir, appears completely opaque until backlit by LEDs, making the tinted glass translucent. The layered glass is made from 100 percent recycled material, is 100 percent recyclable, and includes no additives or colorants. It manufactured into slabs for countertops and other decorative surfaces. It is available in white, light green, dark green, blue, and amber, as well as bespoke options upon request.