Blurring lines between the kitchen and living spaces was the overarching theme at the 2018 EuroCucina in Milan. How that played out was in more furniture-like cabinetry and borrowing from closet design to keep appliances under wraps.
One hundred seventeen companies exhibited in more than 22,000 square meters, with an additional 48 brands in some 14,300 square meters in FTK, technology for the kitchen. There were 434,509 attendees from 188 different countries at Salone del Mobile, a 17 percent increase from 2016, which featured the biennial kitchen and bath event.
The lifestyle focus was the mantra of the Gaggenau booth, which design director Sven Baacke called a home. An aspirational domestic space, it spotlighted the new Vario 400 series of refrigeration (which debuted at KBIS in January), in an open kitchen plan and included modern furniture from Walter Knoll and lighting installations from Occhio.
Plants were a presence throughout the show, with the term Kitchen Garden gaining traction. Some manufacturers integrated pots of herbs right into the central island, sometimes on massive shelves above, some with grow lights. Others dotted open shelving with greenery.
That open shelving, kind of an exploded étagère, ranged from narrow to several feet wide and up to 9 feet tall, and perfectly suited the modular style so popular in modern kitchen design.
These kitchens incorporated lighting and hardware tech for double duty functionality: sliding or pop-up parts of countertops to camouflage appliances and open up workspace. Full backsplashes, often taller than usual, slid to the side or opened garage door style—with a touch or even a swipe (borrowing from faucet tech) to reveal storage. Receptacles flush with the counter featured lids that opened for storing olive oils and vinegars, spices, knives, and even small plates.
The biggest buzz was out-of-sight kitchens that disappeared behind pocket doors to unclutter the living space. Adding to the versatility of spaces were multiple levels of countertops as well as integrated tables, some of which could swivel out in multiple configurations. Rounded edges added a softer geometry, and one round table at Poliform truly felt like furniture, in a beautifully grained bog oak.
Woods ranged from oak to ash and elm to walnut, from pale blonds to cappuccino to walnut and dark espresso. Along with stones and porcelains, most finishes were matte, although lacquers were especially striking in contrasts. Metal played a support role in frames, especially striking in black, with burnished gold key in faucets as well as reveal accents. Polished brass appeared minimally, most notably as feature strips on counters and cabinets, again, borrowing from furniture. Textures also added a dynamic—in wired brushing on metal or wood and as relief work on concrete or porcelain.
The show had an emphasis on healthy eating, including a nod to Asian cuisine with wok components in induction and a new 36,000 BTU gas hob by Wolf, as well as built-in sous vide drawers. Induction cooktops were largely flush, with integrated ventilation. A few companies, such as the German Nolte Kitchens, showed fully integrated induction in counters, and Elica fascinated visitors with a demo on intersecting counters of porcelain and wood. Another novel look: gas hobs installed directly on porcelain counters, their black overscale profile lending a chunky industrial vibe.
There was more smart-home tech, with fridge cams, washer/dryers that communicate, and more. Miele showed off its Dialog oven, which cooks with electromagnetic waves, allowing the preparation of fish on a block of ice or a filet of veal in a jacket of beeswax. Dialog, which regulates cooking according to the food being cooked, will be available in the second quarter of 2018 in Germany and Austria, and, eventually, the United States.
Here are some kitchen products that caught our attention: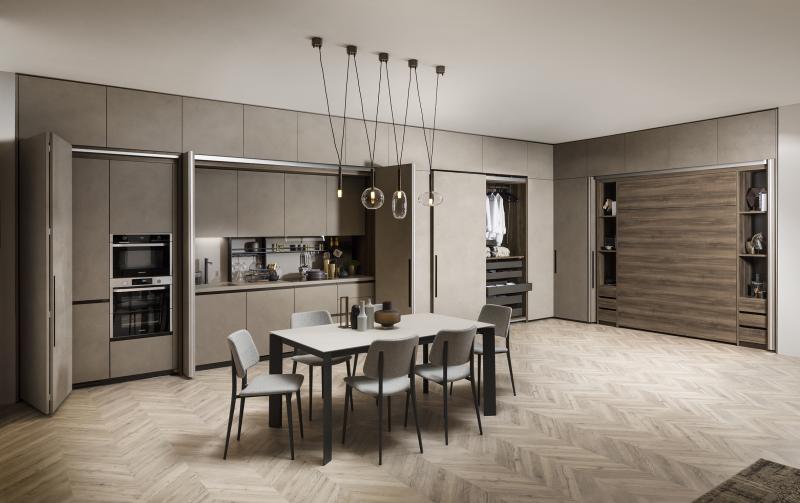 Scavolini's Boxlife is a complete modular furniture system for kitchen, living, and sleeping areas. Designed for compact spaces, it features door that hide kitchen, dishwashers and ovens as well as laundry. The "hide to organize" panels are shown in a clay finish.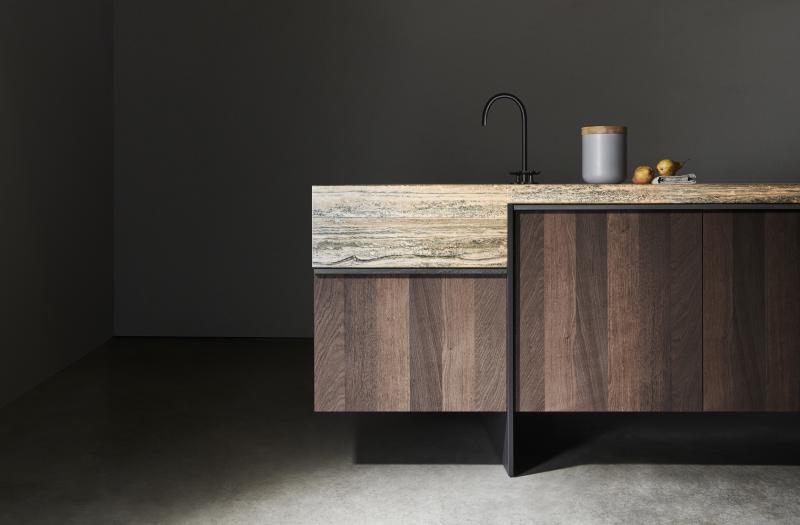 Belgian architect Vincent Van Duysen pairs sophisticated Mooreiche oak and Rapolano travertine for Ratio, a new modular collection for Dada. The bronze aluminum frame defines the basic architecture, while full and empty volumes and tops of different thicknesses create an elegant balancing interplay.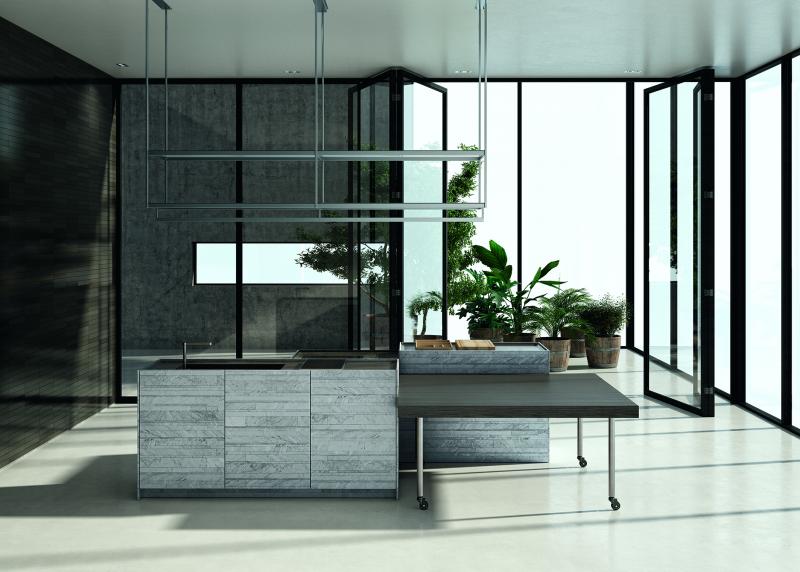 Combine is a new design for Boffi by Piero Lissoni. It consists of simple monoblocks, combined to create separate functions for cooking, washing, and prep. Four sides are finished to allow flexible compositions. Shown in gray graphite oak and natural elm, with brushed anthracite metals.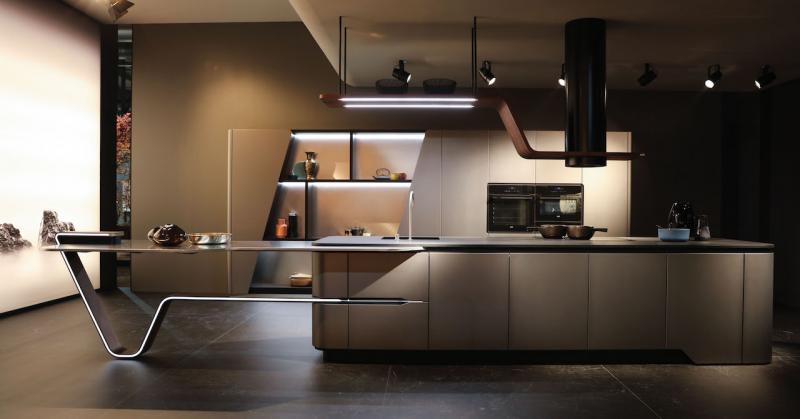 Snaidero's new Vision range designed by Pininfarina dazzles in geometry, airy positive, and negative volumes, and the use of an integrated silicone LED strip to outline the counter and hood. The base is available in walnut-stained ash and stainless steel.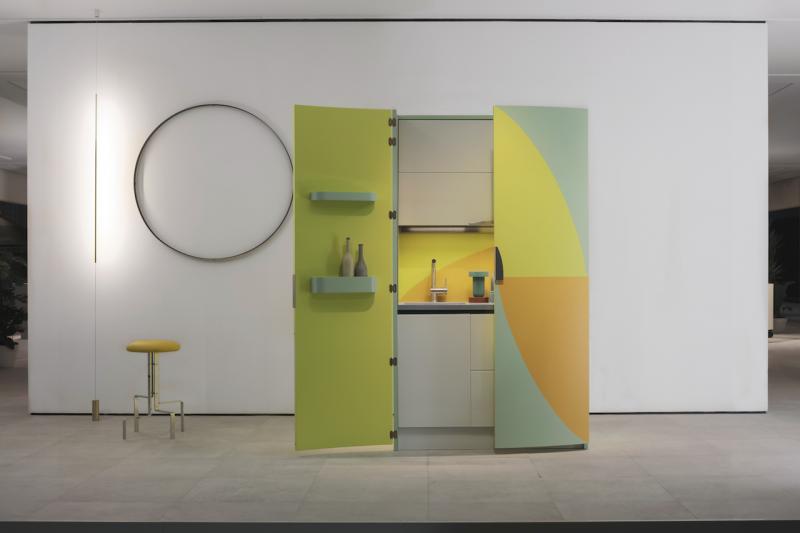 The AM 01 kitchen block by Alessandro Mendini for the Japanese company Sanwa plays with citrus hues and pistachio green in patterns on the wooden polychrome lacquer cabinet. Inside holds a sink, cooktop, ventilation, and storage. The piece features silk-screened glass and stainless steel.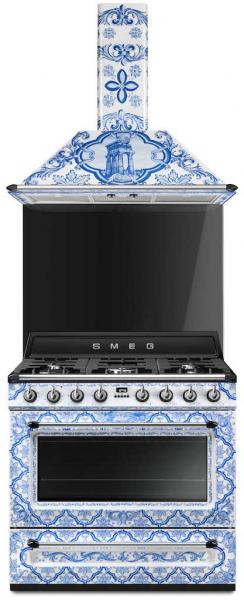 Dolce & Gabbana debuted the first range and hood in its collection for Smeg. The coloring (blue and white) nods to Italian maiolica ceramic pottery and features mythological imagery.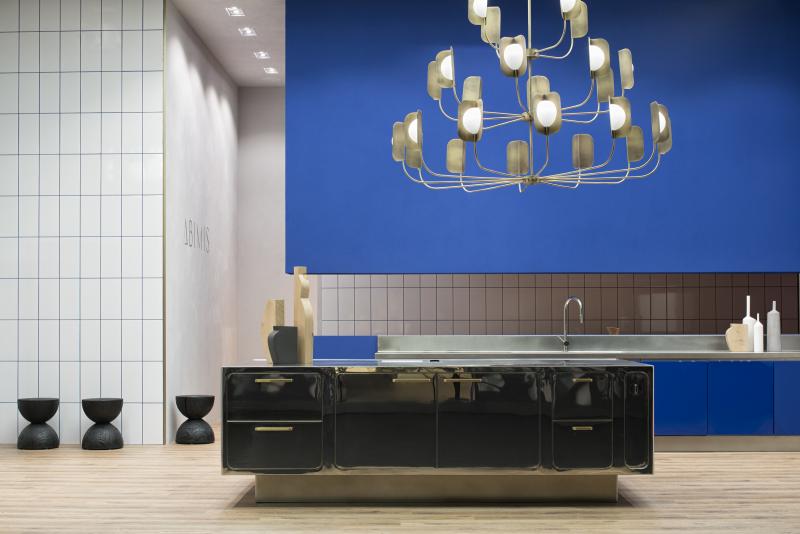 A commercial look that feels refined at home, the Ego island from Abimis features shapely rounded doors that are softer and less edgy than those in pro kitchens. The island also is accented with brass handles.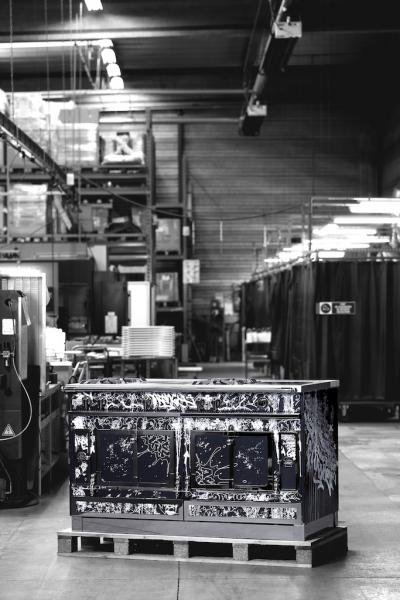 To celebrate its 110th anniversary the luxe brand LaCornue took an edgy approach, commissioning Paris street artist Cyril Phan, known as Kongo, to create a series of graphic designs in the spirit of six geographic areas. The US version (shown here) is the Chateau 150 range, which sells for 250,000 Euros.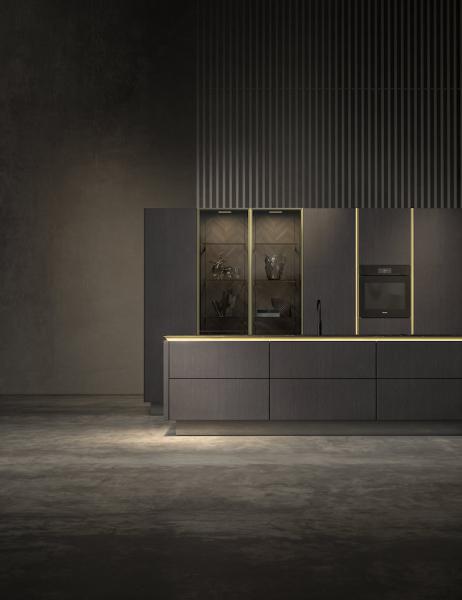 Pure is a new concept kitchen from SieMatic, featuring grey matte lacquer with antiprint coating, coarsely texture ceramic, and black matte brushed aluminum. The backs of the cabinets feature a wood veneer in a finely worked herringbone parquet.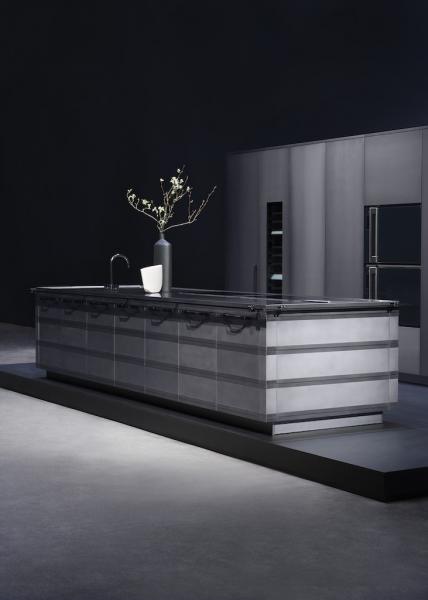 Fendi Cucine's Kurkum (designed by Marco Costanzi) has a professional style and spotlights stainless steel in different finishes. Metal Gun also provides scratch resistance, while satin Peltrox for the countertop and doors lends a vintage pewter coloring.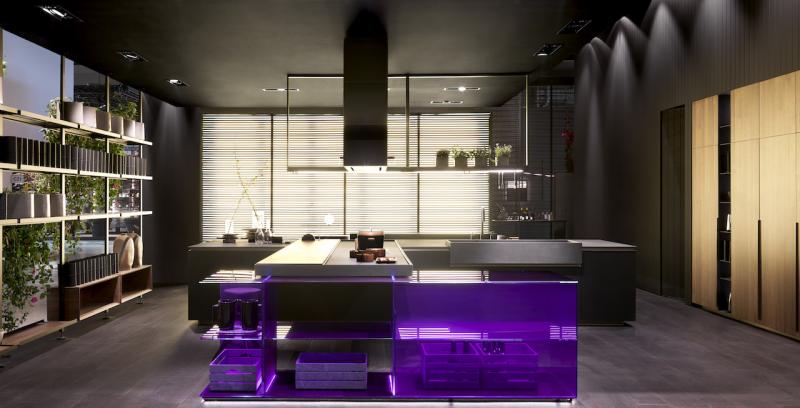 Effeti made a bold statement with Pantone's Color of the Year Ultraviolet in acrylic storage that was a focal point of an E0 kitchen. The distinctive feature of the EO cabinetry is the door edge, cut at 40 degrees with an anodized aluminum handle profile that serves a practical and aesthetic function.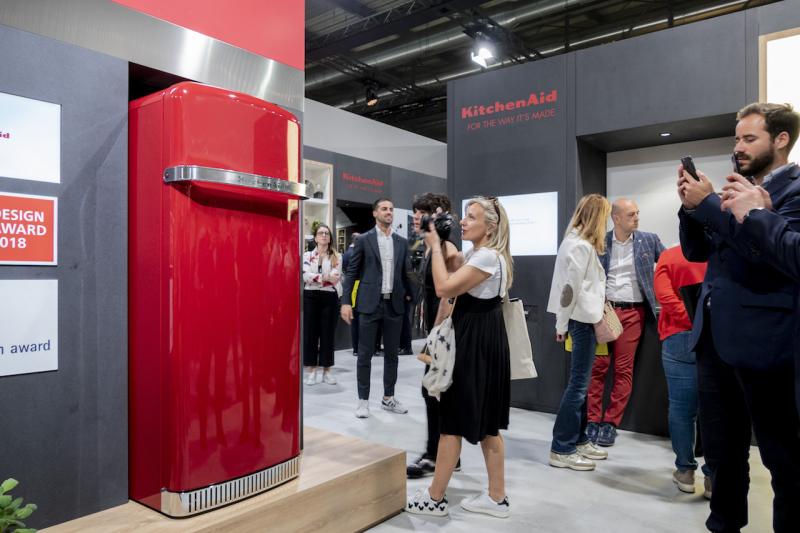 Known for its rainbow of hues in small appliances, KitchenAid went big with a retro-look red refrigerator.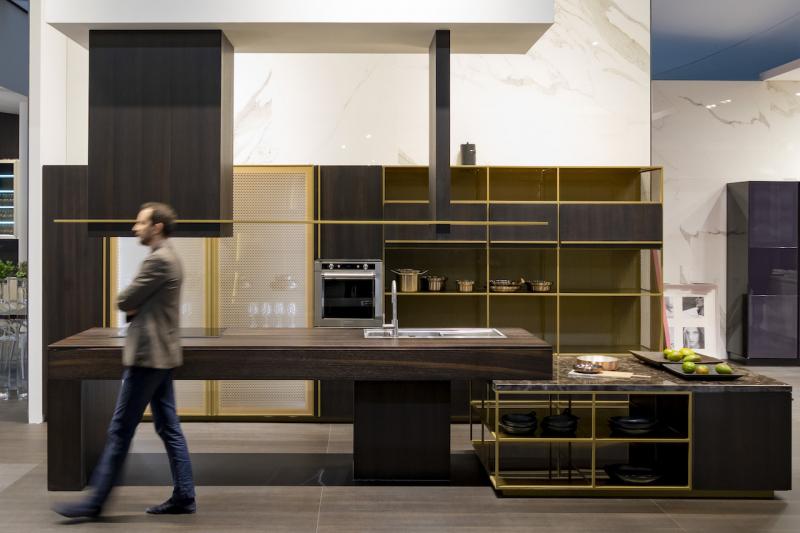 A deft mix of materials from Rastelli features dark wood, marble and patterned glass, with punctuations of yellow frames and textured shelving. The solid blocky island drops down to more delicate marble, which tops open shelving that has a rolling-cart look.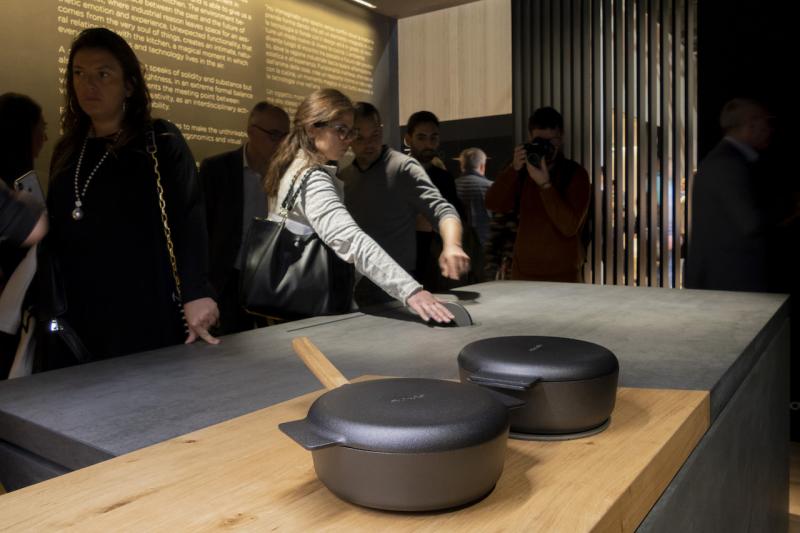 Elica, known for its stylish range hoods, drew a crowd to see a demo of integrated induction, on intersecting porcelain and on wood counters.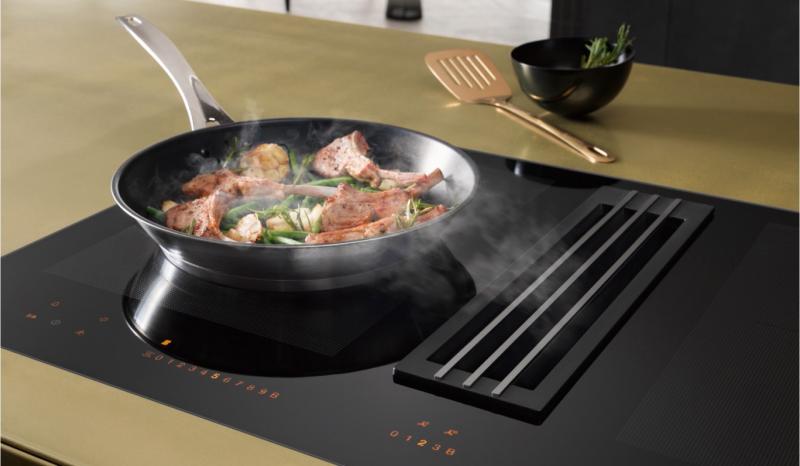 Induction ranges were plentiful, flush and most often with built-in ventilation like this TwoinOne integrated hob and down draft model from Miele.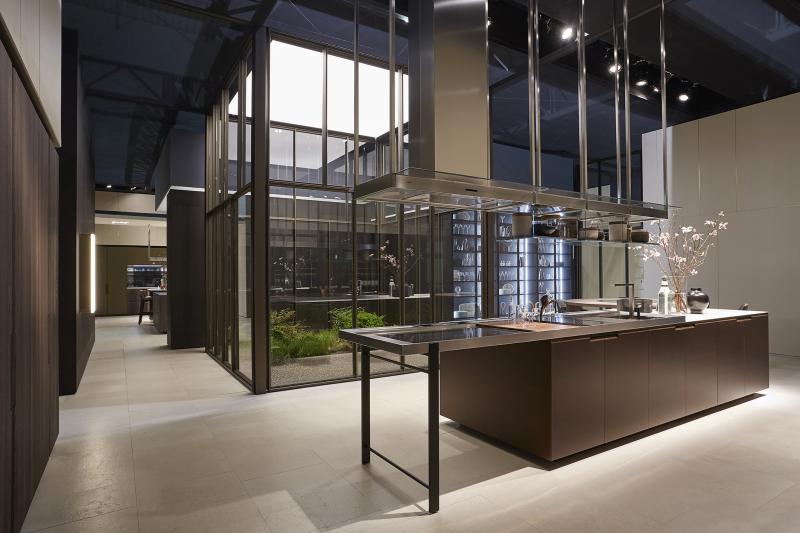 Shape, from Poliform, has four configurations for personalization. Features include Infinity modular system, stainless steel, and glass hood modules; these can be equipped with lighting or spice racks. A moon snack table shown in solid bog oak (a special fossilized wood) offers a marble Lazy Susan. Other finishes include: Line fume glass, Emperador extra dark marble (matte or glossy), metallic brushed lacquer, or Dekton Calacatta worktop.