Cordless tools offer installers a freedom like no other—to roam the jobsite without concern about tripping over cords or moving compressors.
"People want to get away from corded products," says Chris Keffer, vice president of marketing for DeWalt. "Some of the highest jobsite incident reports come from tripping hazards. Jobsites can be a mess … and a lot of that clutter is cords laying all over the place. In general, we find users want to get to cordless as quickly as they can."
But like any technology, early cordless options brought their own limitations, most notably in power, runtime, and weight. Having enough power for certain tasks meant a tool too heavy to use for long periods of time or batteries that ran out too quickly.
Those challenges have slowly diminished over the past decade, particularly as new lithium-ion batteries offered a better power-to-weight ratio versus nicad batteries and technologies such as brushless motors emerged. Battery and tool manufacturers have been gradually increasing power and runtime while maintaining or reducing weight closer to that of their corded counterparts.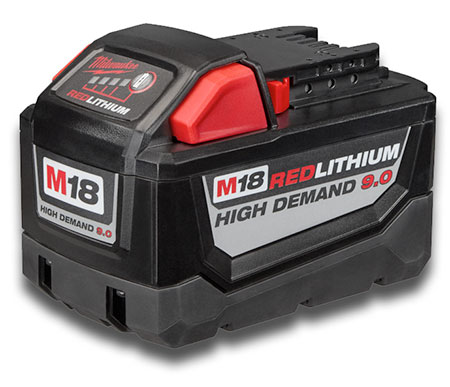 The M18 RedLithium High Demand 9.0 battery provides for up to five times more runtime, 35 percent more power, and 60 percent cooler operations than standard lithium-ion batteries, the company says. It is compatible with the full M18 system.
"So much has happened since Milwaukee Tool introduced lithium-ion technology to power tools in 2005," says Shane Moll, president of power tools at the company. "Significant leaps forward in motors and tool electronics, coupled with advancements in lithium-ion, have pushed the industry to a point few would have considered possible 10 years ago."
It's led to greater convenience and, most notably, a greater number of applications becoming accessible to cordless operation.
"As cordless batteries get more capable, many more tools that weren't cordless now are," says Keffer, pointing to DeWalt's drywall screwgun as one example. Brushed motors and nicad batteries limited the ergonomics for larger tools such as this; they were heavy and slow. With a lithium-ion battery and brushless motor, DeWalt's cordless drywall screwgun is now the same weight as corded without giving up productivity, Keffer says.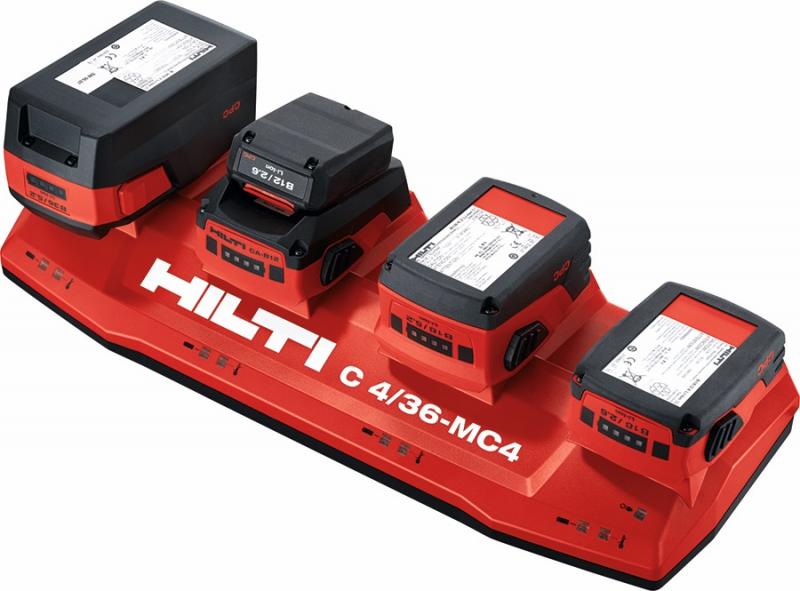 The C4/36-MC4 multi-bay charger is compatible with all of the company's batteries. The smart charger sends all power to the first battery placed, charging it to 80 percent in 25 minutes; once the fi rst battery is fully charged, other batteries automatically begin charging in the order in which they were inserted.
"Ten years ago, being able to use a [cordless] grinder or reciprocating saw … that was unfathomable," says Aaron Brading, business unit manager for power tools at Hilti. "Ten years later, we're there easily."
Battery manufacturers are making cells with a higher density, which has allowed for higher work per charge. "Energy density will continue to go up," says Brading. He notes that what's most important to users is "Will this battery get me until lunchtime?" It was a question in the days of nicad, he says, but no longer with lithium-ion where, depending on the tool, it will last you into the afternoon and then some.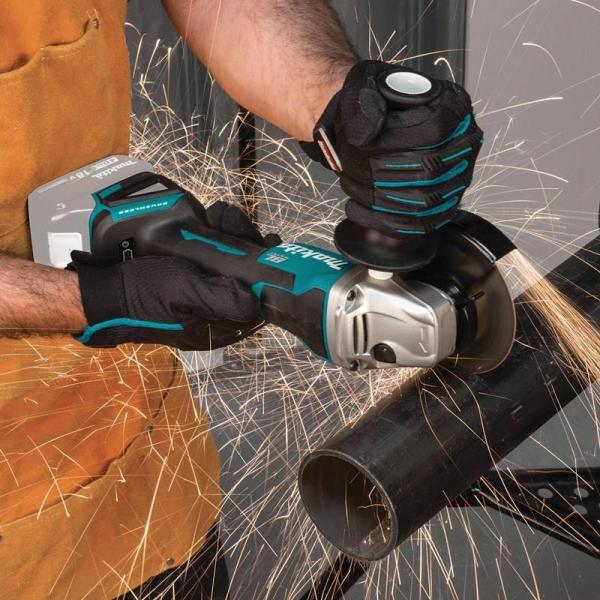 The 18-volt LXT lithium-ion brushless 4 1/2-inch Paddle Switch Cut-Off/Angle Grinder has an electric brake that stops the tool in two seconds or less, electronic torque control, and anti-restart, among other features. Automatic Speed Change technology adjusts speed and torque during operation.
Charging times are also no longer an issue, Brading notes. And to accommodate the extra batteries on site, consider multi-bay units that begin charging the next battery after the one before it reaches full charge.
All of these breakthroughs have created a broad spectrum of options that allow contractors to select tools that best fit their day-to-day application needs and usage preferences. While 18-volt tools have established themselves as a go-to option, lighter, lower-voltage products are ideal for certain tasks and tight spaces, and heftier voltages are offering newfound convenience for heavy-duty jobs.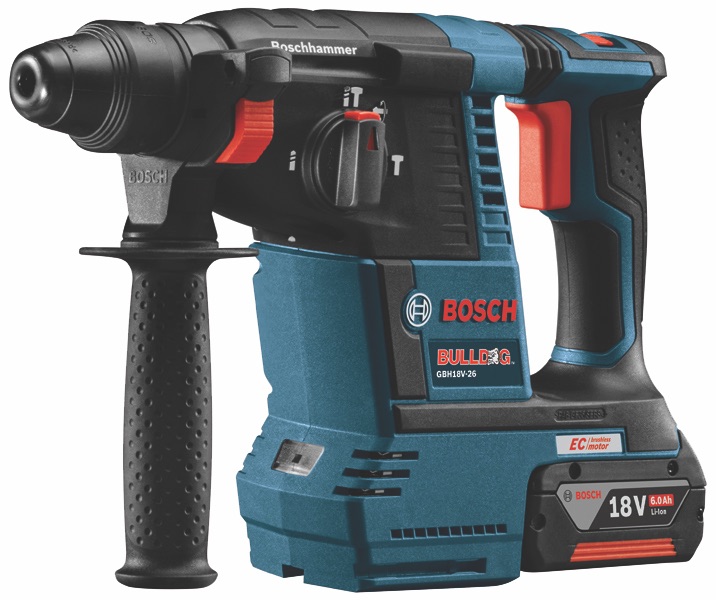 The GBH18V-26 18-volt brushless rotary hammer provides 1.9 foot-pounds of torque while weighing just 7.7 pounds. It features an ergonomic L-shaped design for horizontal power transmission, electronic precision control for soft start, and an optional on-tool dust extraction adapter. The brushless motor provides for two times motor life and less maintenance.
"It all comes down to the technological capabilities and what performance you can get from it," says Jim Bohn, director of strategy for Robert Bosch Tool Corporation, regarding professionals' preferences. "For basic to medium application levels, the 12-volt to 20-volt ranges have been effective. But as users want to get into extreme applications (e.g., rotary hammers, routers, etc.), it takes a better battery source, meaning the 36-volt and 60-volt platforms are better. New battery cell technology, however, is allowing the 18-volt to 20-volt platform to slowly move into the extreme application arena. This will allow users to keep one platform of smaller, more compact tools and hopefully continue to find ways to eliminate cords in their environments."
Beyond batteries, other smart features are improving performance and convenience, from better ergonomics to on-board lights to improved gear systems. One of the biggest advances, the brushless motor, delivers increased effi ciency for gains in runtime and durability while helping tools run cooler. Digitally driven motors also are helping to improve operations.
"We're seeing a real shift over to cordless," Keffer says. "Our vision is no more cords on the jobsite … and we think that these technologies help enable that."
This story originally appeared in the Winter 2016 issue of PRODUCTS magazine. See the print version here.