Earlier this year at the American Architectural Manufacturers Association's (AAMA) annual conference, the program was focused squarely (though not exclusively) on green building and sustainability. And who could blame the organizers?
Windows and doors are the source of much-appreciated and muchdesired natural light in a home, but they are the weak links in an energy-efficient building envelope. Simultaneously, architects, builders, and consumers continue to push the design envelope and request more features that test the limits of window construction. It's enough to keep manufacturers up at night.
For example, construction pros want larger expanses of glass, bigger windows and doors, and thinner profi les—as well as efficiency. These requests pose a challenge, and brands must find a way to meet the demands. And they'll have to do it without sacrificing overall performance.
"Buildings consume 40 percent of total U.S. energy, and $500 per household is spent for window energy use each year," Stephen Selkowitz of the Lawrence Berkeley National Laboratory said during his presentation at the AAMA conference. "Windows, of course, don't consume energy, but they impact energy use when it comes to heating, cooling, and lighting. Making a better window increases occupant benefits like view, comfort, and health. Plus, you'll increase real estate market value."
But as we all know by now, energy-efficient windows by themselves will not guarantee stellar performance in the real world. It was a shock to some when, a few years ago, various outlets reported that green and LEED buildings were actually performing no better (and sometimes worse) than non-green buildings.
That's where architects, builders, and remodelers come into play. Without good design and proper installation, great windows are pointless. They will make a good building better, but they won't improve a bad one.
This month we bring you high-quality windows and doors that blend style and performance. Manufacturers have done their part; you just need to do yours to use and install them in the right way.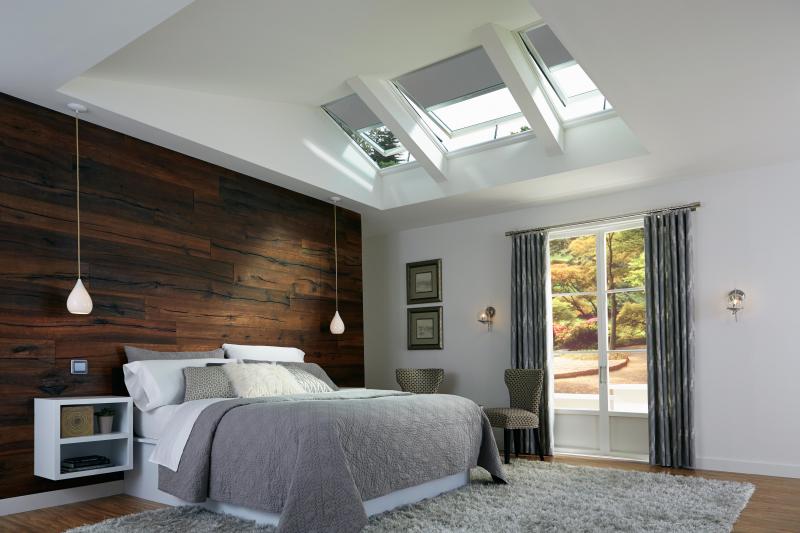 The brand's new Energy Performance model combines an Energy Star-certified fixed skylight, a solar-powered blackout blind, and a preprogrammed remote control. When closed, the double pleated blind boosts the energy performance by 40 percent.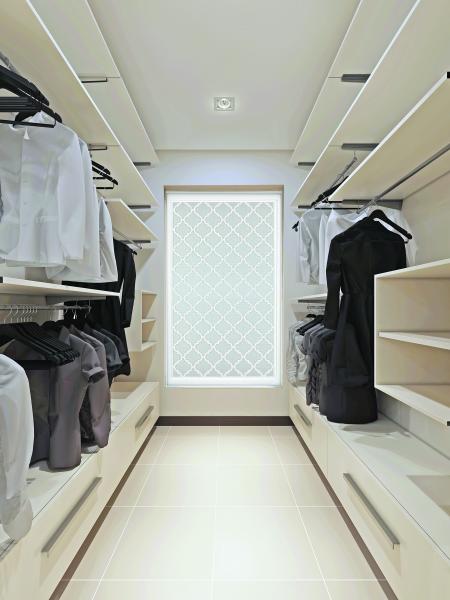 Home Designer Collection is a line of eclectic decorative privacy glass windows that come in four styles: Metro, Mission, Prairie, and Baroque. Available in various sizes, including 48 by 48 inches, the windows offer privacy as well as tempered safety glass on the exterior.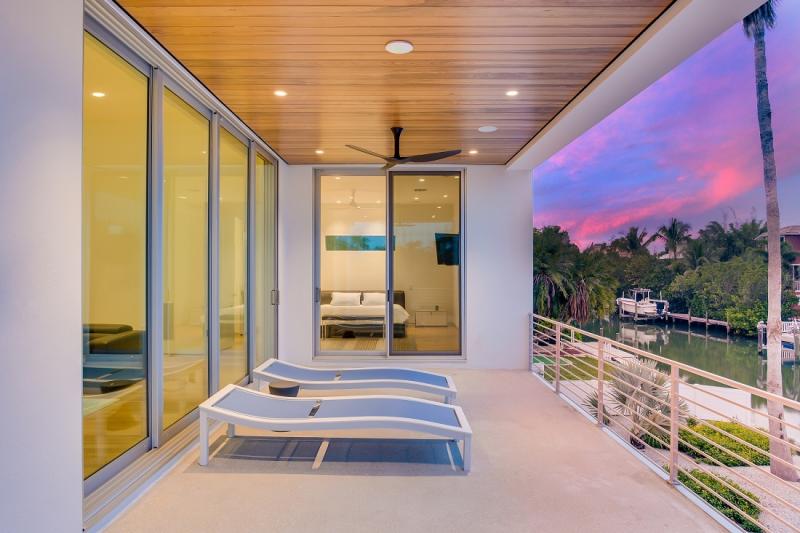 Designed to protect homes against hurricanes and break-ins, WinGuard windows and doors feature heavy-duty, extruded-aluminum frames with corrosion-resistant hardware and laminated glass. The products are designed to reduce outdoor noise and block 99 percent of UV rays, the company says, and are available in Energy Star-qualified configurations.
Door Ways
Architects design many things, but it's unusual for them to venture into doors. Yet that's exactly what well-respected architect James Cutler, FAIA, has been doing for some years.
Partnering with Simpson Door Co., the principal of Cutler Anderson Architects designed a line of architectural entry doors featuring all-wood stiles and rails with dowel-pinned joinery. He recently answered some questions for us about doors and architecture.
Q: How did the relationship with Simpson start?
A: They just called me up. They are an excellent company, and they make good products. So Marketing and Product Development Manager Brad Loveless called me up and said, 'Hey, we'd like an architect to design some doors.' As it happened, it was at a point when I was remodeling our house (for what seemed like the 40th time). I went out to the factory and watched how everything was assembled, and in return for the work I did, they provided me with a really nice door.
Q: What does the door mean to your architecture?
A: Everything is tied into the architecture, including the door. If we look at architecture, not so much as an object to be experienced as a singular thing but as a series of experiences, the door is just as important as any other element. If you try to tell a story with the building, every move you make is a sentence.
Q: Where do the designs come from?
A: I think about what a door is. I was ruined years ago by a teacher of mine, architect Louis Kahn. I studied with Lou, and he absolutely twisted my world. I can't do anything arbitrary, so everything has to have a reason and be related to the nature of materials. In this case the door is a cantilever that moves on hinges, so it has loads on it. So how is a door assembled? It can be done lots of ways, but if we are going to get a sense of the nature of the wood, we're going to assemble it as pieces. A lot of the doors have to do with building or assembling pieces.
Q: How often do you design a door for Simpson?
A: Whenever Brad calls me up. It's usually every three or four years. Luckily he always calls when I need a door. Money has never changed hands. —N.M.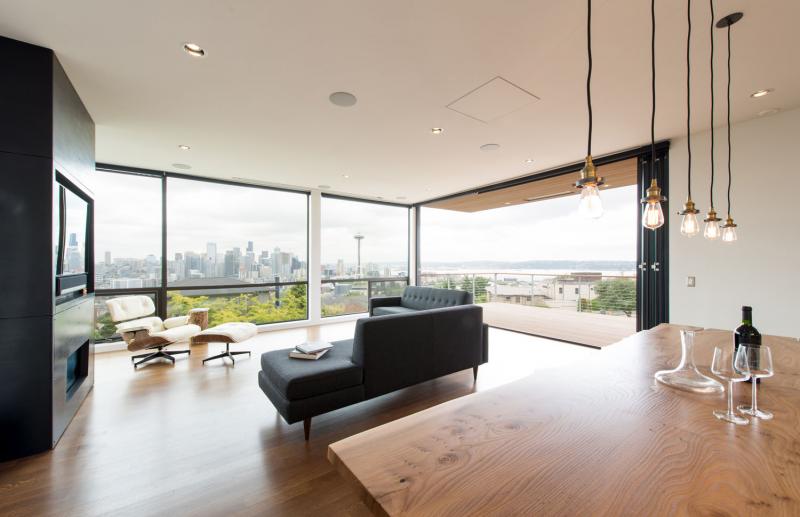 The brand's folding doors feature extruded aluminum and engineered wood construction, top-hung hardware, and concealed multi-point locks, among other features. Options include simulated divided lites, panic hardware, and ADA thresholds.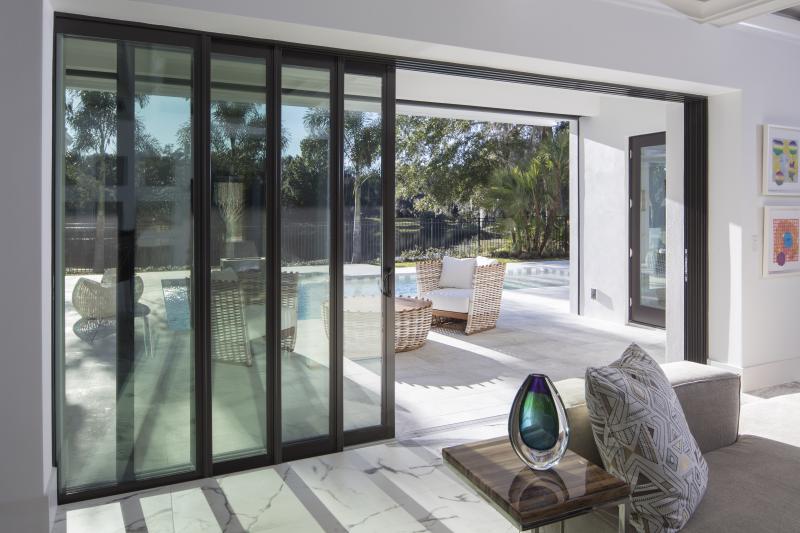 Builder Series aluminum sliding patio doors are available with matching sidelites, fixed panels, transoms, segmented transoms, and a wide selection of shapes. Available with or without a nailing fin, the doors feature a stainless steel track cover, mortise or clam lockset, and adjustable tandem rollers.
"In historic applications, typically doors and windows need to be all wood. For windows, the focus is on the angle of the exterior sill, the mullion and muntin width and height, and the grille pattern, plus the product has to blend well with the original window.

The insulation value of windows and doors is important to homeowners. All of the major window and door companies offer a wide range of products with great insulation properties for the house envelope. Composite materials are popular due to the low-maintenance factor."
—Chuck Khiel, Vice President, Fred Home Improvement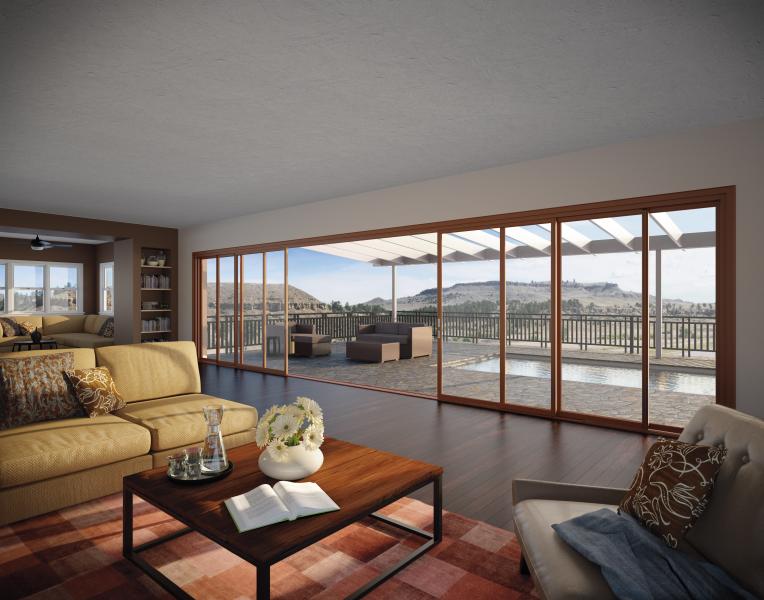 MultiGlide patio doors can be specified with a 2 3/4-inch bottom rail in clad wood and all aluminum for contemporary homes or, for traditional home styles, reinforced with a panel featuring a variety of bottom-rail heights. The doors are available in stacking or pocket configurations for openings up to 25 feet wide by 10 feet tall.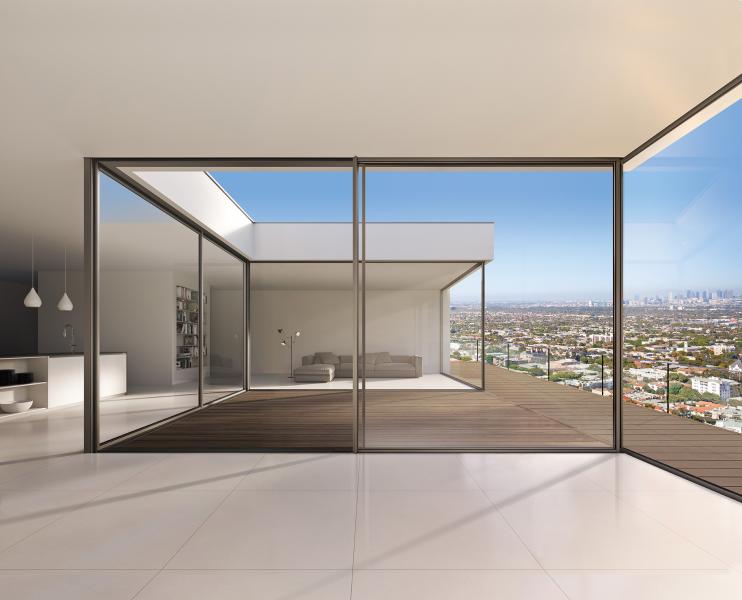 Cero is an all-aluminum sliding glass wall system featuring stiles and rails measuring 15/16 inches, a height-adjustable floor track, and multiple sill options. The floor-to-ceiling sliding glass panels have recessed top and bottom tracks. Each panel operates on twin rollers with encapsulated, self-lubricating ball bearings and stainless steel wheels. It comes in numerous standard and custom powder-coat colors.
The window market reached 46.9 million in 2013, an increase of 16 percent from 2011.
SOURCE: DUCKER RESEARCH CO.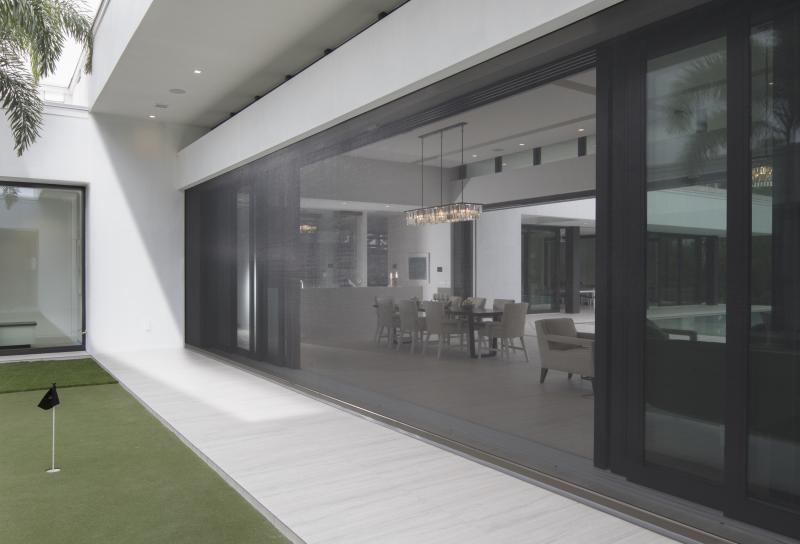 The manufacturer says this is the first-of-its-kind motorized retractable screen that extends more than 40 feet wide—beyond the industry standard of 25 feet. It was installed in the 2017 New American Home.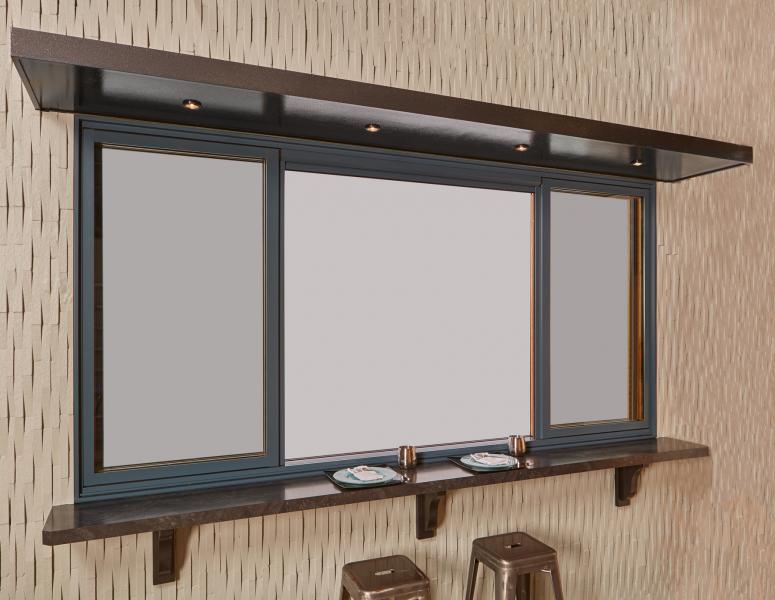 Offering easy pass-through between indoor and outdoor, the company's new folding window and quad sliding windows are available in the Ultra Series, VistaLuxe, and Heritage Series. Products are offered in various interior wood species, such as sapele, and with retractable screens and positive-action locks that engage automatically.
Approximately 40 percent of windows, 45 percent of patio doors, and 30 percent of entry doors end up in new construction.
SOURCE: DUCKER RESEARCH CO.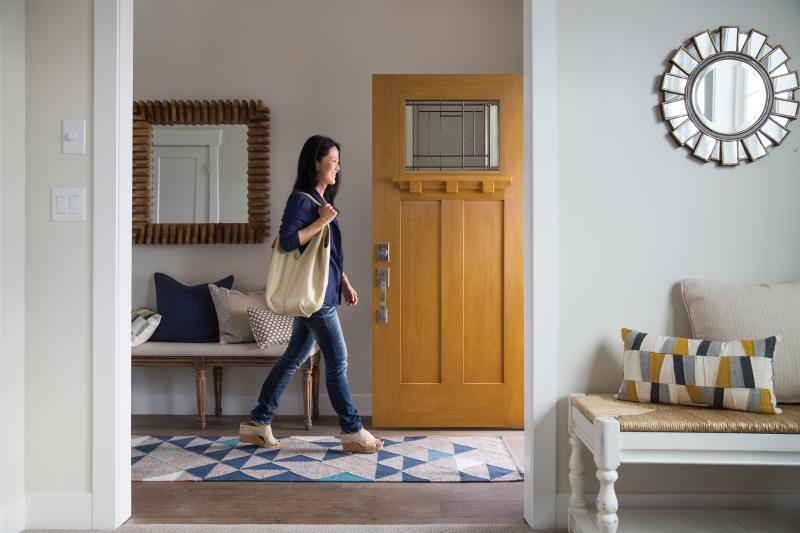 Heritage Series fiberglass entry doors offer authentic Craftsman architectural details. Available in a three-panel design and in 6-foot-8-inch and 8-foot heights, the line features an optional dentil shelf and a 22-inch-by-17-inch light frame that allows the door to be glazed.
This story originally appeared in the March/April 2017 issue of PRODUCTS magazine. See the print version here.