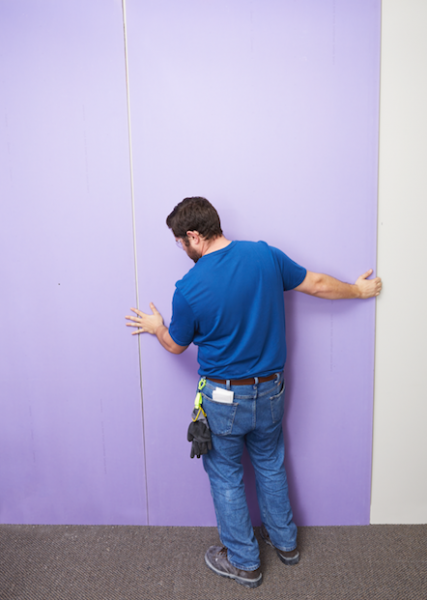 Building products manufacturer National Gypsum says its Gold Bond brand SoundBreak XP Retrofit allows contractors to reduce sound transmission between rooms without the need for demolition.
The 5/16-inch sound-damping, retrofit gypsum board featues a viscoelastic polymer adhered to the back paper and is encased in heavy mold, mildew, and moisture-resistant purple face paper.
"SoundBreak XP Retrofit will change the way contractors and remodelers think about renovation," says Chris Whitmire, the company's product manager of gypsum systems. "It provides the same sound damping benefit as our original SoundBreak XP board, but with no need to tear down existing walls."
Ideal for media rooms, bedrooms, and nurseries in  both residential and multifamily applications, the board can be easily installed over an existing interior gypsum board wall where noise from adjacent spaces is a concern.
"It also provides a thinner wall assembly without sacrificing square footage," the company explains. "As it is manufactured in a controlled environment, versus alternative field application methods, the product is more consistent in quality and performance."